In my latest eyepiece test, Rother Valley Optics* lent me four models from the Celestron X-Cel LX eyepiece range. I've enjoyed using the 12mm, 7mm, and 2.3mm eyepieces, as well as the 2x Barlow lens.
I tested all LX models in my 150mm (6″) SkyWatcher Newtonian. It has a focal length of 750mm making it an f/5 scope (how to calculate focal ratio).
Magnification is calculated by dividing the focal length of the eyepiece into the focal length of the telescope. With the eyepieces I tested, I achieved magnifications of 62.5x with the 12mm eyepiece, 107x with the 7mm, and 326x with the 2.3mm. Each of these magnifications is doubled when the eyepiece is used in conjunction with the Barlow lens.
The rest of this article goes into my impressions of these eyepieces over two evenings of clear viewing.
X-Cel LX Technical Spec's
There are seven focal length sizes in the X-Cel eyepiece range, plus a 2x and 3x Barlow Lens. The smallest eyepiece has a focal length of just 2.3mm and the largest is 25mm. All models are listed in the two tables below.
Tested
12mm X-Cel Eyepiece
Tested
7mm X-Cel Eyepiece
Tested
Tested
Tested
2.3mm X-Cel Eyepiece
Tested
Tested
Style
Each eyepiece within the range is similarly styled. They have all metal bodies made of black-anodized aluminium, and each has a treaded rubber grip ring around its midriff to improve handling. Copper orange accents tie the branding together across the range.
As seen in the Omni Plössl range, there is an indent in the insert barrel (the part of the eyepiece which slots into your telescope). It gives an extra level of safety against accidental damage by providing extra gripping space for the thumb screws that hold it in place.
A big variation from the cheaper range is that instead of a flip-up rubber eye cup, the X-Cel range has a twistable cup instead. You can see the operation of this in detail in my video at the end of this review, but the way they pop up works really well.
I used it to effectively lock in place where my eye should be to take most advantage of the eye relief as differed across the different eyepieces.
Technical Design
Each eyepiece (EP) in Celestron's X-Cel range consists of six glass lens elements. the EP's lenses are fully multicoated, which allows for excellent light transmission through the six layers of glass.
The X-Cel LXs provide a wide, 60° field of view, which is great for taking in large objects such as the moon and galaxies. It also provides an easy way to find your way around the sky by showing the larger field of view than the kind of eyepieces your telescope was supplied with.
The barrels on this range are all 1.25″ and each is threaded to take standard filters. Indeed, on one night I was observing with them, I had to use a moon filter to tone down the lunar surface enough for me to observe it comfortably.
The black design is continued inside the eyepiece itself, which has the technical benefit of reducing internal shadows. The edges of the lenses themselves are also blackened to increase contrast.
The whole range is parfocal, which means you should be to swap one focal length for another within the range and not need to alter your telescope's focus. I tested this number of times and found it more successful between the 12mm and 7mm models than I did between 7mm and 2.3 mm eyepieces.
Eye Relief
Celestron's own technical details specify that each of these eyepieces has a 16mm eye relief. I am not going to dispute that but, for me, there was a noticeable difference between eyepieces in how close I needed to have my eye to enjoy the full field of view.
The adjustable eyecup I mentioned earlier was a lot closer to the viewing lens when I used the 2.3mm eyepiece than it was for the 7mm, which itself was not screwed out as far as the 12mm.
There was never a point at which I could not get a good quality view but I do not wear glasses. I would argue that a glasses wearer would have a compromised field in the 2.3mm eyepiece.
Fields of View
Part of the appeal of this range of eyepieces is the 60° apparent field of view. The true field of view you achieve using them in your telescope is calculated by dividing the apparent field of view by your magnification. (Read more detail here).
In my Skywatcher scope, I had a true field of view as follows:
12mm eyepiece = 0.96°
7mm = 0.56°
2.3mm = 0.18°
The field of view for the 12mm eyepiece was almost 1° and the moon comfortably fits within one half of that. When I looked at Saturn, the ringed planet was a little lost in the middle of a vast area of space, which is why it looked so much better in the 7mm eyepiece.
We'll come to my observation details shortly but suffice to say, the 0.18° field of view in the 2.3mm EP was tiny. Sadly, my 6″ telescope is not powerful enough to bring in the light needed to sustain good views at over 300x magnification. A dim and small field of view are not an award-winning combination for backyard astronomy!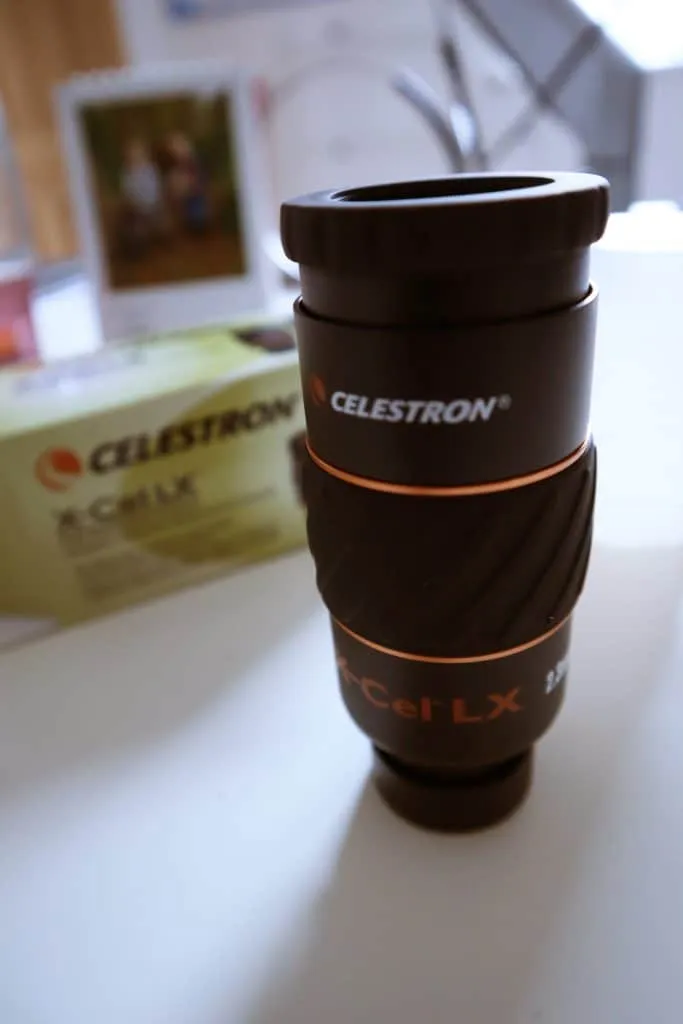 Hands-On Review of X-Cel LX Eyepieces
I used these eyepieces over the course of two nights. The first was brief; it was cut short by clouds closing in and rain. On that first night, I was focused on Andromeda Galaxy.
My second night was more successful, although viewing was impeded by the almost-full moon. On that night, I used the eyepieces on the planet Saturn, the Ring nebula, and the moon itself.
Over the rest of this review article, I'll share with you my experience of using each of the eyepieces and the 2x Barlow lens.
At the bottom of this page you'll see my first YouTube video where, over the course of 10 minutes, I get into more conversation about my nights with the Celestron X-Cel eyepieces.
First Impressions
As I expected, given that this is a high quality range than the Omni, the eyepieces themselves look and feel good. The exception to this is the box and plastic carrying case they come in.
I guess the box is a transient carrying vessel and it doesn't need to scream high quality. The plastic carrying cases are cheaply constructed with simple foam discs put in each end to protect the expensive eyepieces.
On the positive side, the case closure is highly adjustable and rigid once locked shut. They've been designed so that just one case will fit all of the different focal lengths, except that the 12mm eyepiece needed an extra bit of foam because it was too short to fit snugly in the case!
Call me picky, but when I'm spending that much on a single eyepiece and they look as good as they do, I'd like to think the carry case had more than 10 cents spent on it.
This really is nitpicking though, the eyepieces themselves look very classy in their black anodised aluminium. They feel sturdy and robust but not too heavy. The rubber tread around the middle also looks good against the black metal and serves the useful purpose of significantly improving grip, especially on cold nights in half-numbed fingers.
The dust caps are a snug fit of a universally size, i.e. all of the insert barrels and viewing lenses are the same size.
The element which brought me the most joy was the twistable eyecup. After years of using fliptop rubber cups, this was a revelation! Such a simple design and yet so effective at setting the eye relief distance. You can see me wax lyrical about that in the video below.
The following sections dig into each individual piece. There is a link to Amazon with the latest price shown, and you can also click this link to see the range at Rother Valley Optics.
The 12mm X-Cel LX Eyepiece
The clarity in the 12mm eyepiece is stunning. I was presented with a 1° field of view full of pinpoint clear stars which was truly immersive.
The optics are wonderful, there was no sign of coma even right at the edge of the field. There was also very little in the way of chromatic aberration other than right at the very edge of the field stop.
I observed in quite a light polluted area and really enjoyed the benefits of a fully extended eyecup. Even though I've never used them before, turning out the eyecups felt very natural and I know I shall miss them now I no longer have them in my possession.
Just like all the other eyepieces, the 12mm was gripped tightly in the telescope without unnecessary over screwing of the retaining pins. There was no wobble and no real chance of losing them inadvertently.
Andromeda was contained nicely in the view, but I recognise this will not be the case under a dark sky where more of the galaxy is visible.
Saturn was beautifully clear. I observed it after a rainstorm had cleared through, it was still a little breezy outside so seeing was decent but not spectacular.
The massive field of view made the ringed planet feel very small, so this eyepiece was useful for setting context but not so much for observing the planet itself.
What did look stunning is the star field itself. In this size of field, with the clarity offered by the six lenses within each eyepiece, it felt a little like being enveloped by space. I spent many long minutes just enjoying the awe of all those stars against the darkness.
Before the moon rose too high (it was already spilling light into the sky) I trained my scope on the Ring nebula. In reality I left it too late to see it well, but it was there to be enjoyed (especially when I turned the 7mm eyepiece on it) even if it was just a shadow of its normal self on a dark night.
It felt like I had no choice but to wrap the evening up by pointing my scope at the moon. It had brightened like daylight by the time I looked at it and I practically blinded myself even with 25% filter in place.
There's no denying that the view was breathtaking, even though the whole moon was comfortably fitting in one half of the field of view. I enjoyed drinking in the radials of Tycho and the darkness of Mare Humorum.
Reduced
Celestron X-Cel LX Series Eyepiece - 1.25-Inch...
X-Cel LX eyepieces, optimized for planetary viewing, offer a 60° field of view through a six-element fully multi-coated lens system.
Pop-up rubber eyeguards provide comfort and increase contrast.  Raise and lower with a simple twist.
A treaded rubber grip offers a no-slip grip, even with gloves on.
1.25" barrels are threaded to accept filters.
The 7mm X-Cel LX Eyepiece
Swapping from the 12mm to the 7mm gave me chance to test the parfocal nature of these eyepieces. I was suitably impressed! There was very little focusing change needed for any object I was viewing.
There was also ample opportunity to test the handling of the range.The grip Did make it feel like the eyepieces were more secure at swap over, and I never felt like I was taking a big risk when holding one whilst putting the other in to the telescope.
Likewise, when selecting a new eyepiece from the tray mounted within my tripod, it was easy to visually distinguish between the different sizes and to comfortably grip and hold onto the right one.
Eye relief was didn't feel the same as the 12mm, it felt shorter, but it was still very comfortable. This was most noticeable when I was observing the Ring nebula. I could clearly now see the hole in the middle but definitely needed my eye closer to the glass to get a good view.
Adjusting the eyecup made sure that as I swapped eyepieces in and out, I didn't need to make bobbing head movements to find the right distance for to get best usage.
Andromeda was just as clear in the 7mm as it had been in the 12mm, even if it was a little dimmer. Whenever I look at this galaxy I am hypnotised at the thought of how many stars I'm looking at! The eyepiece experience was pleasurable, even though I wish I had a bigger telescope attached to it!
Clarity on the star field was just as good as in the 12mm. Trained on Saturn, the additional magnification of the 7mm helped me pick out Saturn's moons Iapetus and Titan, even in the face of air currents.
Our own moon fit perfectly inside my field of view and was truly stunning, even though not particularly observable in its almost-full state. The 7mm eyepiece would have been a joy to use at first quarter to pick out some of those lovely crater details.
Reduced
Celestron X-Cel LX Series Eyepiece - 1.25-Inch 7mm...
X-Cel LX eyepieces, optimized for planetary viewing, offer a 60° field of view through a six-element fully multi-coated lens system.
Pop-up rubber eyeguards provide comfort and increase contrast.  Raise and lower with a simple twist.
A treaded rubber grip offers a no-slip grip, even with gloves on.
1.25" barrels are threaded to accept filters.
The 2.3mm X-Cel LX Eyepiece
I'll hold my hands up: I overreached with this eyepiece.
As I said at the start of this article, my telescope is only 6 inches in diameter. It is just not powerful enough to sustain 326x magnification, which is what this 2.3mm eyepiece delivered.
Even if I had 10 inches, 326x is a big claim in our weather conditions. There would rarely be a chance to enjoy it.
All that said, I do have some observations if you are fortunate enough to be considering this for your massive Dob.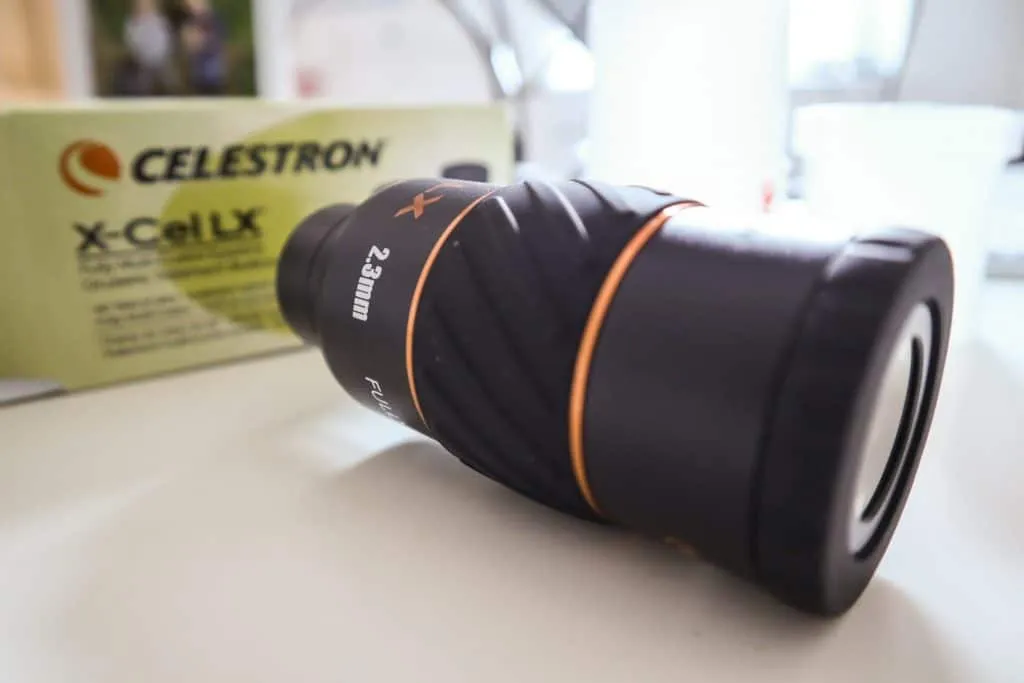 Firstly, this is a physically large eyepiece, comfortably bigger than the 7mm and 12mm. You need to make sure your scope is well-balanced/locked in position before inserting the 2.3mm into it.
Secondly, the parfocal jump from the 7mm to this one did not work for me. There was a definite need to refocus, it was not just a tweak.
Finally, the eye relief did feel much shorter in this eyepiece than in the other two.
There was no seeing of Andromeda with this eyepiece, but I could see the Ring nebula, albeit much too dim to be observable in any useful way.
The moon was plenty bright enough for me to see it, but it travelled fast at that magnification and seeing conditions meant there was no good observing to be done.
Don't take this part of the review the wrong way – I am not bad-mouthing this eyepiece! What I am saying is that it was no good for my telescope, and I found myself wishing instead that I tried the 5mm. I suspect that would have been a lot better for my purposes.
Reduced
Celestron X-Cel LX Series Eyepiece - 1.25 2.3mm...
X-Cel LX eyepieces, optimized for planetary viewing, offer a 60° field of view through a six-element fully multi-coated lens system.
Pop-up rubber eyeguards provide comfort and increase contrast.  Raise and lower with a simple twist.
A treaded rubber grip offers a no-slip grip, even with gloves on.
1.25" barrels are threaded to accept filters.
The 2x X-Cel LX Barlow Lens
This is a very easy-to-use Barlow. I loved the metal clasp design which protected the eyepieces from being drilled into by the thumbscrew.
Like any Barlow, the view suffered from noticeable dimming when paired with any of the eyepieces above. For example, when trained on Saturn with the 7mm eyepiece, I could only see Titan and not Iapetus.
When combined with the 12mm eyepiece to look at the moon, I found the LX Barlow gave me a new level of observing joy. I used it to pick out some lovely detail in the last few craters which had any shadow in them.
I am loathed to commit one way or another with an overall opinion on the value of this Barlow. It didn't really work for me, but I wonder how much of that was linked to the size of my scope and high magnification eyepieces. It may well be that the Barlow works best with the 25mm, 18mm and 12mm eyepieces.
Reduced
2X - 1.25" - X-Cel LX Barlow Lens
Quality x-cel lx 2x Barlow doubles the magnification of any 1. 25" Eyepiece.
3-Element apochromatic, fully multi-coated Optics offer up bright, sharp images.
A rubber grip helps to avoid accidental drops
Barrel is threaded to accept standard 1. 25" Filters.
A brass compression ring holds the eyepiece firmly in place.
Summary
Overall, I enjoyed using the Celestron Excel LX IP strange. The optical quality was superb and the larger field of view was a joy to make use of.
I perceived practically no coma or chromatic aberration, nor were there any obvious internal reflections.
In my 6 inch telescope, the 7mm eyepiece worked best but I found the 12mm useful too. The Barlow performed well with the 12mm but I do not like the dimming impact of it and wouldn't invest in it for myself.
It was my mistake to try the 2.3mm EP, it was just too much for my equipment. On reflection, the 5mm eyepiece would be ideal for top end magnification.
This is a pricier range of eyepieces than the Omnis, but not crazily so. I'm certainly keen to add the 7mm to my range permanently and think the cost of doing so to be perfectly reasonable.
I have no hesitation in recommending them to you.
Tested
12mm X-Cel Eyepiece
Tested
7mm X-Cel Eyepiece
Tested
Tested
Tested
2.3mm X-Cel Eyepiece
Tested
Tested
My Video Review of the X-Cel LX Range
---

Rother Valley Optics is a renowned UK-based optical retailer. They sell a massive range of astronomy products from filters to telescopes and, with over 12 years' trading experience, pride themselves on their honest, useful advice.
My thanks to them for the equipment loan. Check them out for yourself here.
---
*Rother Valley Optics neither sponsor nor have editorial control over this post. We do not receive any commission payments from RVO.
Last update on 2023-12-08 / Affiliate links / Images from Amazon Product Advertising API