Stargazing is a lot of fun for those of us curious about celestial objects like galaxies, star clusters and nebulae. But, picking the best telescope for deep sky objects (DSOs) can feel overwhelming.
We've picked out our four best telescopes for viewing galaxies which meet every need and budget. Use the table of contents to access our deep sky telescope buyers guide, or to jump straight to our favorite recommendations.
Our Recommended Deep Space Telescopes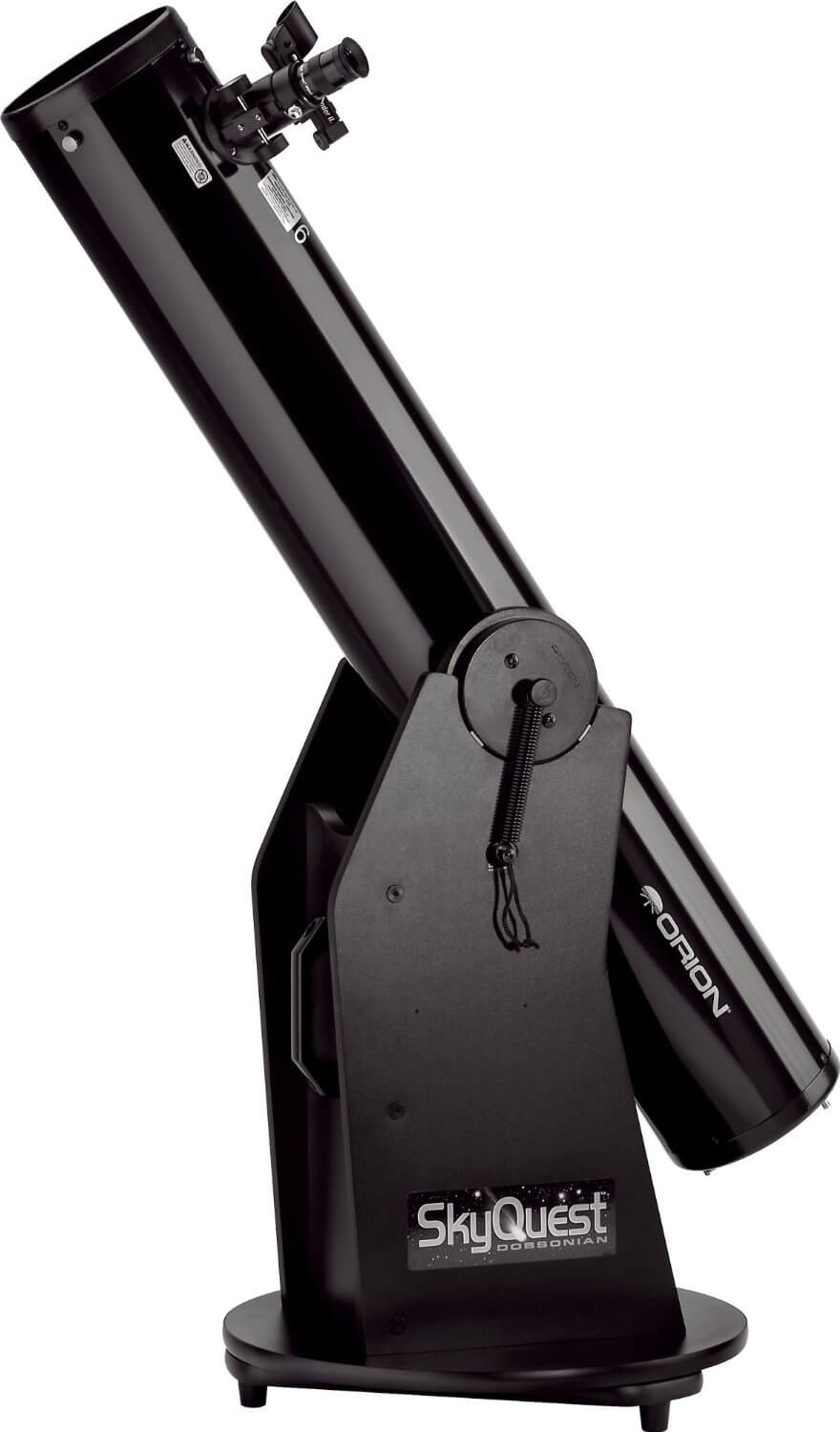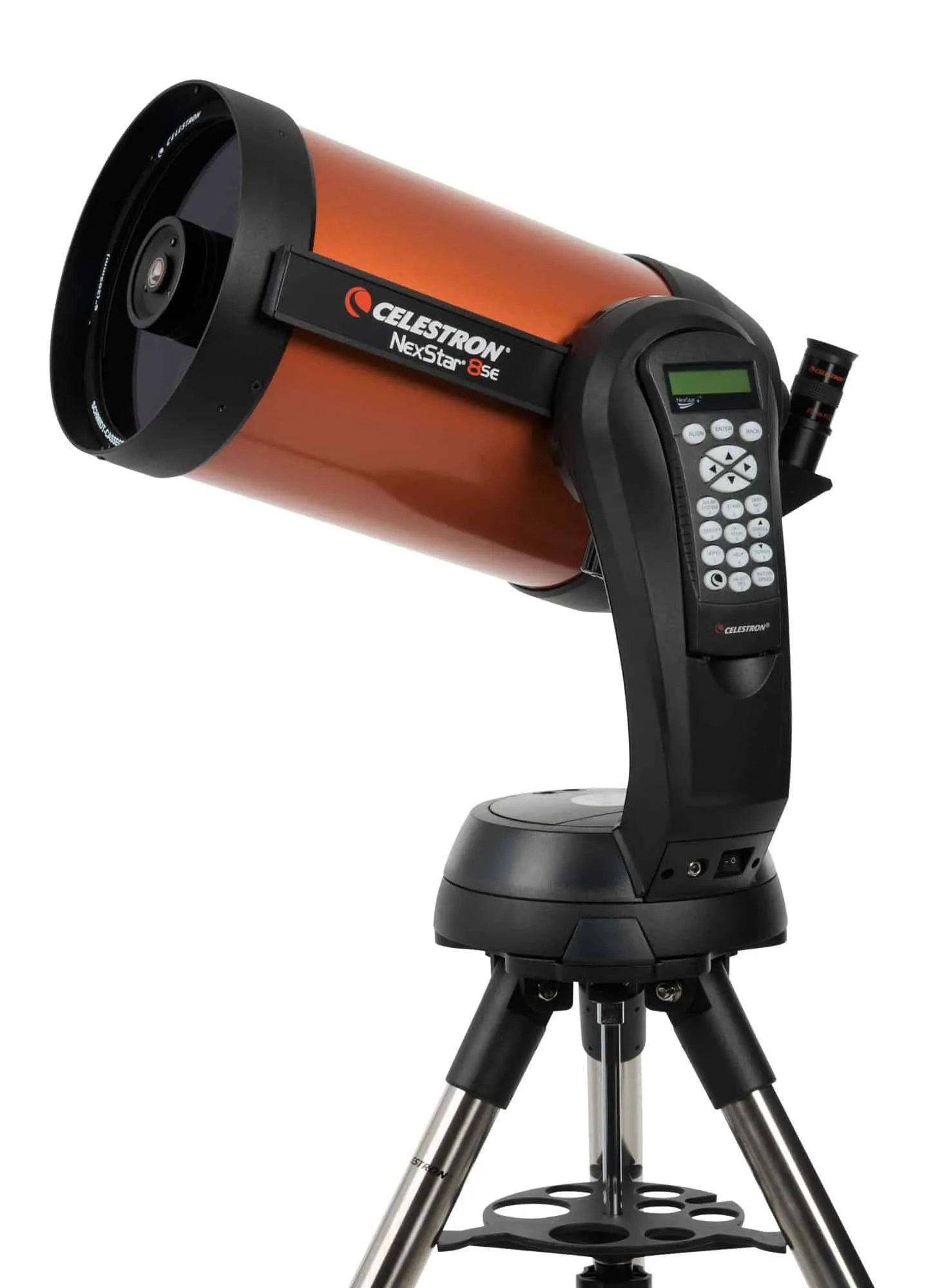 Click the button for today's price, or the 'Full Review' link to see why we recommend these models. If you make a purchase after clicking a button on this page, we may receive a small commission. This does not alter the price that you pay.
---
Buyer's Guide to Choosing a Telescope for Deep Space Objects
Knowing that you want to spend most of your astronomy hours looking for galaxies and nebulae makes it easier to pick a decent telescope.
For the best views of faint objects like galaxies and nebulae, you need three things from your telescope:
To gather as much light as possible, i.e. you need a big aperture
The ability to resolve that collected light as finely as possible with great optics. In other words, you want to see details and not just smudges
Stability! Nebulae and galaxies are small, dim objects in the main. To see them clearly, you have to rely on your telescope to not suffer excessive vibration.
A fourth consideration is motorized tracking.
While purists might get joy from discovering the galaxies on their own, many of us appreciate having a computerized motor to help us find and track these small, faint objects.
Deciding which kind of astronomer you want to be, i.e. find it yourself or have it found for you, will also make choosing a model easier.
We'll look at each of these four considerations in more detail below.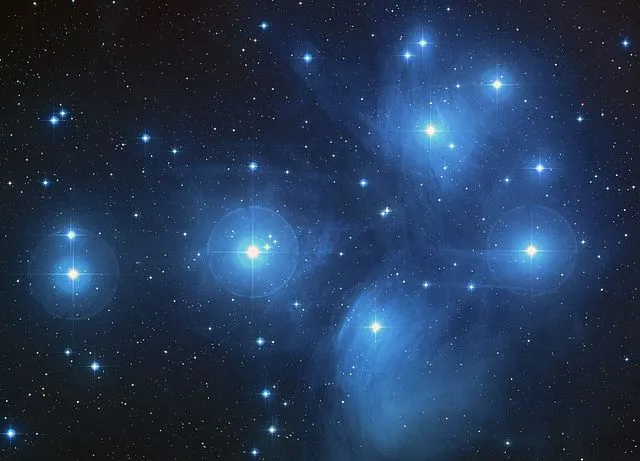 Aperture and Optical Quality
The two most important features of a telescope used for DSOs are its aperture and optical quality. Larger apertures collect more light, resulting in sharper and brighter images.
To meet our aperture and optical needs, all of our recommended telescopes in this review are either Dobsonians or Compounds (catadioptric).
Dobsonians offer huge light gathering options for relatively little money per inch of aperture. Their downside is their length; Dob's with a large aperture and long focal length can be unwieldy to handle.
Compound telescopes get around this problem by using a combination of a lens corrector plate and internal mirrors to give a long focal length in a short tube. As well as making them easier to use, they are much easier to motorize.
The downside of a compound scope is cost: you will pay significantly more per inch of aperture with these scopes than you will for a Dobsonian.
How Go-To Motors Help Us Observe Galaxies
Three of the four scopes in our review are equipped with computerized motors to automatically locate and then track specific celestial bodies.
They are particularly helpful for DSOs because they are generally small and dim and so hard to track down. Also, if you think you might get into astrophotography in the future, tracking is an essential requirement.
Read our guide to the best telescopes for astrophotography
Digital setting circles are commonly added to large Dobsonian telescopes which don't have computerized tracking. These help with locating deep space objects.
A Stable Mount is Essential for Big-Aperture Telescopes
A telescope's mount is one of the most critical factors in the usability of your telescope.
Whether alt-azimuth, Dobsonian or German Equatorial, your mount needs to offer rigid stability when you are looking at an object. The last thing you want when viewing a tiny faint nebula is vibrations coming through a flimsy mount.
We've made sure that the recommended scopes in our review are supplied with quality mounts.
Eyepieces for Deep Sky Astronomy
Eyepiece quality is essential for the superior views of deep space objects, no matter what type of telescope you own.
We've written a detailed but easy-to-understand guide to eyepieces, which you can read by clicking this link (don't worry, it'll open a new page so you won't lose this one).
Remember that magnification is calculated by dividing the focal length of your eyepiece into the focal length of your telescope. For example, if you have a telescope with an 800mm focal length and a 20mm eyepiece, you'll get a magnification of 40x (800/20).
For more astronomy formulas, click here
One thing to be aware of is that higher magnifications make for dimmer objects. Our advice is to go for a wide field of view eyepiece at a relatively low magnification and with the best optical performance you can afford.
One accessory that helps with DSO viewing is a small collection of filters. They show more detail and structure than it's possible to see without. Read more in our best filters for deep sky objects article.
Finally, note that if you live in an area that's heavily polluted with light, hunting for deep space objects will likely prove to be disappointing no matter how good your telescope. The darkness of your sky has a greater impact on the number of DSOs you can see and the detail in which you can see them than pretty much anything else.
---
Best Deep Space Telescopes – Full Reviews
These are our detailed reviews of the four telescopes which meet the needs and budgets of most backyard astronomers wanting to specialize in observing deep space objects.
Budget Option: Orion SkyQuest XT6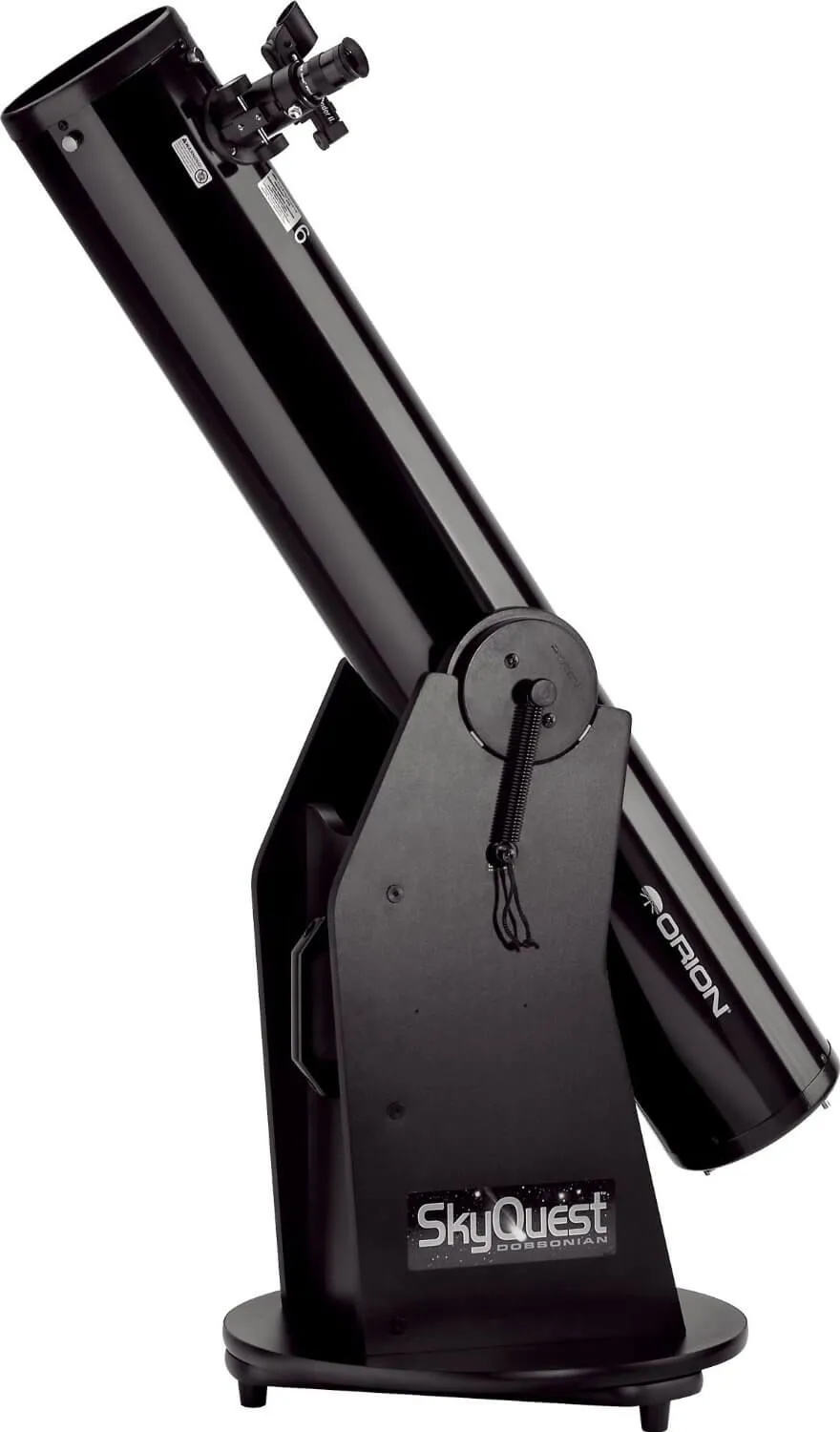 We begin our selection of telescopes for looking at deep sky objects with this Orion SkyQuest XT6 Dobsonian. It strikes a fair balance between price, ease of use, and quality. Small enough to be a good choice for those who are new to the stargazing, but big enough for hunting a wide variety of DSOs.
Dobsonian telescopes are lauded for offering the best 'bang for buck' in the world of astronomy, and this one is no exception. This is the cheapest model on our DSO list and for the six-inch mirror it offers, you should expect to pay about $430. Click this link for today's price, which opens in a new tab.
Read our complete, detailed review of Orion's XT6 Dobsonian
The user-friendly 6×30 finderscope and 6-inch diameter primary mirror comfortably reveal the brighter DSOs with some detail, such as the Orion Nebula and Andromeda Galaxy. Star clusters like the Pleiades look glorious, especially with a wide field of view eyepiece.
The telescope is easy to set up as it comes in two detachable parts – telescope and base – that are connected by the integrated springs. Even with limited experience, it only takes around 30 minutes to fully assemble.
You need to be aware that this scope is bulky. It's four feet long (with a focal length of 1200mm / 48 inches), so ideally you shouldn't need to move it often or far. On the plus side, the ultra-stable Dobsonian base keeps the reflector optical tube in place and balanced for better viewing of distant celestial objects.
At this budget price, there's no goto or tracking installed, so you'll have to find and follow objects manually. While many of us love doing that, it's not everyone's first choice. If you want goto and tracking, then look no further than the 8SE, below.
These are some of our favorite deep space objects
Generously, Sky-Watcher supply two 1.25″ eyepieces with this telescope, a 25mm and a 10mm. These deliver 48x and 120x magnification, which is doubled if you add a 2x Barlow lens to your toolkit.
This is an easy to use telescope and an obvious choice for DSO hunting on a limited budget. You may want to add new or better eyepieces and even some DSO filters to improve what you see, but most new astronomers will find it hard to fault this model at this price.
Pros (3)
6-inch mirror good for brighter DSOs
Entry level price
Stable & easy to setup
Cons (3)
Bulky to transport
No electronic tracking
Limited extras supplied
---
Most Popular: Celestron NexStar 8SE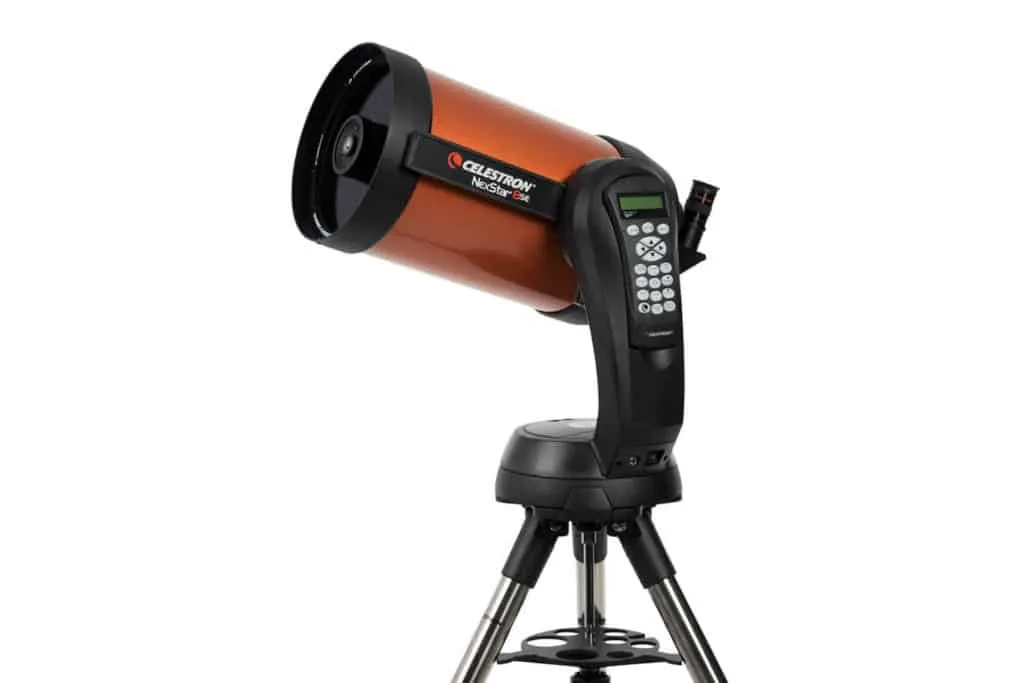 The NexStar 8se is a motor driven compound telescope with an 8-inch aperture. It's design allows it to capture fine details from galaxies and other deep space objects in the night sky. The 8SE retails for around $1200 (see today's price in a new tab).
The telescope's single fork arm construction makes it easy to assemble and take down. It weighs only 16 pounds (7.25kg) so it's no trouble to transport it to your favorite dark sky location.
SkyAlign makes it easy to set-up the telescope's go-to and tracking functionality, using any three bright celestial objects (video showing how SkyAlign works).
Once your good to go you can select any object from the NexStar's database of 40,000 objects, which includes many thousands of deep space objects. The computerized motor will slew the telescope to the object chosen and track it so it never falls out of the eyepiece.
Read our in-depth review of the NexStar 8SE
There are two factors that let an otherwise great scope down. The first is the cheap red-dot finder. Perhaps Celestron decided they could get away with it because of the computerized tracking but, even so, this is a disappointment.
The second area to watch out for is power. The computerized tracking can run on batteries, but not for very long. Anyone purchasing from the SE range will soon discover they need an alternate power supply, like this powertank.
The scope also comes with just a single 25mm eyepiece, giving 85x magnification. You'll want to add to this for improved seeing choices – see our telescope eyepiece guides for inspiration.
This Celestron scope has a focal ratio of f/10.0 and a focal length of a whopping 2,032mm (80 inches) packed into its 18″ long optical tube. This is the top end of what we'd use for deep space observing, but you can enjoy planetary observing with this telescope too.
The primary 8-inch primary mirror in this celestron is a decent size for seeing many deep space objects. Its limiting stellar magnitude is 14, so you will see a lot of galaxies and nebula with this thing. And, with resolution of 0.69 arcseconds, there's decent detail to be seen too.
See the bundle deal, which includes charging pack, carrying case and eyepiece set, at High Point Scientific
The NexStar 8SE is a great deep sky telescope. It packs 8 inches of aperture into a short, transportable tube with a computerized go-to motor. This is the best option for amateur astronomers who want to balance expense and functionality, which is why it's so popular.
Pros (3)
Big database of DSOs
Easy to use go-to & tracking
Easy to move
Cons (3)
Short battery life
Cheap finderscope
Only one eyepiece
---
Huge Dobsonian: Apertura AD12
The Apertura AD12 Dobsonian telescope has twice the aperture of the Sky-Watcher above. The laws of physics mean that this huge light-bucket of a telescope captures 4x as much light.
Its huge 12-inch mirror collects more than enough light for crystal clear views of star clusters, galaxies, and nebulae. Although it has a 'fast' focal ratio of f/5.0, you should still expect to use larger focal length eyepieces and still enjoy great, wide-field views of our best objects.
Read our full-length Apertura 8″ Telescope Review
At the time of writing, you can lay your hands on this huge telescope for around $1,300 (check today's price, opens a new tab). This is not a small sum of money but you are getting a telescope for life and the largest aperture on our list.
Unusually for a new scope, it is also supplied with two premium telescope eyepieces: a 1.25″, 9mm Super Plössl, which delivers 169x magnification, and a 2″, 30mm Super View Eyepiece, which provides a 68° field of view and 50x magnification. The 9mm is perfect for solar system viewing, the 30mm ideal for DSOs because it delivers a whopping true field of view of 1.34°.
This Dob has a built in cooling fan for the primary mirror. The fan brings the huge tube to ambient air temperature much more quickly meaning you get superior viewing conditions without the extended wait. There's also a laser collimator included to keep your stars pin-sharp in the eyepiece.
It's limiting stellar magnitude (the faintest objects you can see with it) is 14.9. Coupled with that big 12″ mirror and the included 8×50 right-angle, correct-image finder, this telescope is a great choice for fainter deep sky objects.
Rarely observed galaxies from the NGC come into view for owners of this scope, like the fainter stars of the M46 cluster. Details that are invisible to owners of a 6″ scope are brought into plain sight, like the dust lanes in the Trifid Nebula, M20.
See widefield eyepieces reviewed – ideal for deep space objects
This is not a light telescope, the tube alone weighs almost 50 lbs and the base adds another 40 lbs. These are not pieces you'd want to have to carry often or for any distance.
Fundamentally though, this 12 inch light bucket is one of the best telescopes available for deep space object hunters. This aperture with an included cooling fan and high quality accessories just screams 'point me at DSOs', which is why it is our recommended model for Deep Sky Astronomy.
Pros (3)
Massive 12″ mirror
High-quality accessories
Eats DSOs for breakfast
Cons (2)
Super heavy
Not suitable for astrophotography
---
Top of the Range: Celestron CPC Deluxe 1100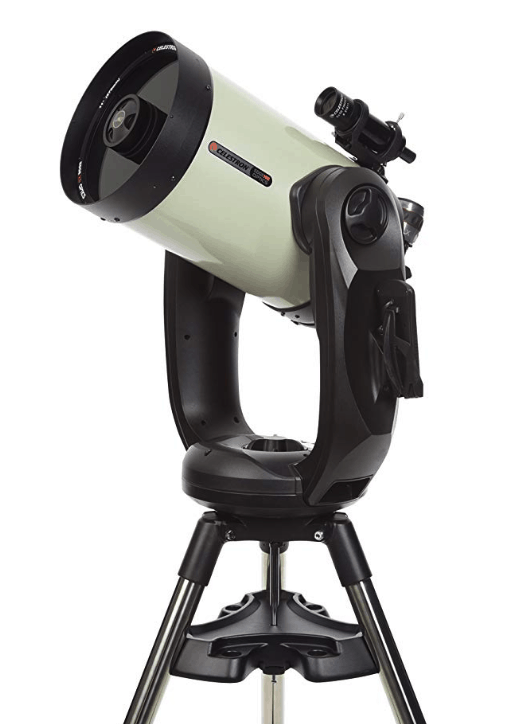 The Celestron CPC Deluxe 1100 is an 11″ compound telescope in the Schmidt-Cassegrain style. If you have the budget, this is the perfect combination of aperture, size and usability for hunting nebula and galaxies.
The Deluxe 1100 has a bigger aperture than the XT10g, above, but its major benefit is its 24″ tube, just half the size of the Dob but with more than double the focal length. All of which is why you should expect to pay around $3500 for this scope (check today's price) making it oue most expensive telescope for deep sky astronomy.
See our complete review of the Celestron CPC Deluxe 1100HD
This top of the range computerized telescope comes with Celestron's best optics installed. As you'd expect, the design is one of a correcting plate lens with internal mirrors which correct for aberrations and curvature. You'll see tremendous clarity of detail all the way to the field edge.
The large mirror comes with premium coatings to improve image quality, so you should also expect to see more detail in brighter nebulae and galaxies, like Andromeda galaxy Orion Nebula than you ever have before. It will reveal celestial bodies to magnitude 15, good enough to find galaxies in the NGC and beyond which are hidden from most backyard astronomers.
The computerized tracking includes GPS alignment, which is a useful step on from the NexStar 8SE because the telescope knows where it is! The benefit being that user input errors on time and location are eradicated. The computerized hand control also 'hibernates', meaning it remembers its previous star alignment, so no need to do it every time you go outside.
Like the NexStar above, all of this technology requires additional power – batteries alone are not enough to meaningfully run the CPC1100.
Astrophotography is possible with the addition of the pricey HD Pro Wedge. Thankfully, the computerized system is already setup for all-star polar alignment and programmable periodic error correction to help capture that perfect deep sky image.
The telescope body rests in dual fork arm mount. This is a distinct (and required) improvement on the single fork from the NexStar SE models on this list, and lends the 1100 CPC StarBright 11″ telescope the stability such a beefy model needs as it slews around the sky on its computerised altazimuth mount.
Although it's distinctly less bulky than the Dob, it is not lighter! Weighing in at 84 lbs means it is not physically possible to move this around as a single unit. It can be moved in sections but is still best done with a helper.
The database supplied has over 40,000 items stored in it. The Celestron CPC 1100 is one of the few models which can actually deliver views of all of them.
If you are looking for the ultimate deep space telescope and have $4k to spend getting it, then the Deluxe 1100 CPC may be the answer to your prayers.
Pros (3)
Huge mirror in a short body
Simple to set up
Easy object location & tracking
Cons (3)
Additional power required
Needs separate wedge for astrophotography
Big budget
---
Summary
These stargazing masterpieces give us the means to explore glorious deep space objects like galaxies, star clusters and nebulae from our own backyard.
We've looked at the budget model 6″ Dob all the way to the magnificent Celestron CPC Deluxe 1100, which may just be the perfect deep space telescope for the backyard astronomer.
As we all know, you get what you pay for, so your budget – whether $300 or $3000 – will determine how faint, distant and detailed you can go with your deep sky explorations.
Last update on 2023-12-08 / Affiliate links / Images from Amazon Product Advertising API