Imaging the night sky is not a cheap or simple hobby to get into. But, it is an incredibly rewarding one! Now you've decided to take the leap, buying the best telescope for astrophotography is a big deal.
In the table below, we share our thoughts on four top telescopes that are great for taking photos of deep space objects. We've also reviewed the essential equatorial mount you'll need to deliver amazing night sky images.
Click on the 'full review' link to see why we recommend these models.
---
Our Recommended Astrophotography Telescopes
---
Astrophotography Telescope Guide
In this section, we set out the features you should consider when purchasing a telescope specifically for astrophotography.
Apochromatic Lenses
The telescope itself comes in a number of varieties in their lenses, such as apochromatic and achromatic. Apochromatic means 'without color'. This type of lens (also called an 'apo') corrects color at three wavelengths drastically reducing chromatic aberration.
In our dedication narrowing down the best telescope for astrophotography, the refractors in our list are all apochromatic.
Doublet and Triplet Refractor Lenses
Doublets and triplets are names given to types of primary lenses found in high-end refractor telescopes, like the ones we're reviewing here.
As the name suggests, doublets are comprised of two pieces of glass, while triplets are manufactured from three pieces. There is a brilliant discussion about the pros and cons of each in this thread from the Cloudy Nights forum, but the essentials are:
Making a perfect triplet lens takes more time and effort (i.e. cost) than for a doublet
Triplets correct chromatic aberration better than doublets, so give better picture sharpness
Triplets are heavier and so take longer to align and cool down than doublets, which makes them less practical for a relaxed amateur
In summary, triplets cost more but give better color-correction in astropics than doublets. However, the difference is marginal and cost may be the more material factor.
Glass Type
It's not just the number of lenses but the glass they are made from which matters too.
Look out for the letters 'ED' in the names of these telescopes. This refers to the 'extra-low dispersion' glass used in the lens. This high-quality glass produces a much lower spread of colored light than regular glass, reducing aberrations even further.
In our review there are three refractors, the two Orion models are triplets and the Sky-Watcher is a doublet and they all use ED glass in their lenses.
Slow and Fast Ratios
The focal ratio of a telescope is its focal length divided by its aperture. For example, a telescope with a 150mm aperture and a 900mm focal length has a focal ratio of 900mm / 150mm = f/6.
In astrophotography, this becomes important depending on the type of object you want to image. Faint objects that require a large field of view to be imaged well, like galaxies and nebulae, are best done with a 'fast' ratio, which is anything with an f/ratio less than 5.
Slower ratios, above f/8, or so, are better for brighter objects like the moon and planets. Mid-range ratios, around f/5 to f/7 are versatile for most needs and are what we've focused on in our review.
Read more about slow and fast telescope ratios and their impact on astrophotography in this forum discussion.
Field Flatteners and Focal Reducers
Focal reducers do exactly what you'd expect – they reduce the focal length of the telescope they are attached to. This means you can increase the field of view size and reduce exposure times needed for your shots.
Click here to see examples of focal reducers for sale on Amazon.
Field flattening is a function of most focal reducers. The natural curve of a lens leads to image distortion at the edge of the field of view, even when the center of your view is perfectly sharp.
Field flattening makes the stars right on the edge of your image sharper than they would otherwise be, bringing huge improvements to the quality of your finished astropics. Read more detail about field flatteners and focal reducers here.
Astrophotography Telescope Mounts
One thing you'll notice about the 'scopes in this review, unlike the rest of our best telescope reviews, is that they are not supplied with a mount. All of your money is going into creating stunning quality optics.
However, to take stunning pictures of celestial objects with your scope – like the one below – the mount and tracking you use needs to be just as specialized as the camera and telescope you'll place on it.
The main features of an astrophotography mount are:
German Equatorial – Your tripod has to follow the stars in the direction they travel, which means an equatorial mount is essential
Strong – It has to carry a lot of equipment
Sturdy – Astro-imaging requires long exposures, i.e. leaving the camera shutter open for many seconds, or even minutes. You can't afford to have an exposure ruined by vibration
Motorized – To image stars as pinpricks you need motorized tracking aligned to the sky's rotation
There are two types of motorized mount: closed-loop and open-loop.
Open loop uses a computerized database to slew your scope to where the object should be. As long as you polar align and star align correctly this can be accurate enough for capturing brighter objects, like the moon and planets, that only need short exposure times.
A closed-loop motor links to a secondary tracking scope, also known as an autoguider. The autoguider locks onto a specific celestial body, normally a star, and uses it to keep the main telescope locked onto the image you're capturing as Earth rotates.
Closed-loop astrophotography is more sophisticated, gives better results and (of course) is more expensive. This is advised for capturing fainter objects like galaxies and nebulae.
The Choice is Yours…
To pick the right telescope for your needs, consider what you'll use the it for the majority of the time. The best telescope for deep-sky photography may not be the best telescope for planetary imaging.
Our article where we choose our best telescopes (opens a new tab) looks at telescope varieties and their differences in more depth.
Finally, if you plan to do your own detailed research before making a final purchase, it's easy to get caught up in all of the technical terms. Here is a simple glossary for astrophotography equipment, which opens in a new tab.
---
Best Astrophotography Telescopes – Full Reviews
These are our detailed reviews of the telescopes that cover the needs and budgets of most backyard astronomers wanting to improve their astrophotography.
Expert's Choice: Orion EON 130mm ED Triplet Apochromatic
One of Orion's top of the line products, the Orion 09565 EON 130mm ED Triplet Apochromatic Refractor is an expert's choice for astrophotography. It is a 23 lbs showcase example of a large aperture triplet apo refractor telescope.
The big 5.1″ aperture boasts an affordable price compared to competing models of the same size (see today's price) and is versatile because it's as useful for visual observing as it is for astro-imaging.
This triplet's magnification range is solid, between 19x and 260x, making it perfect for wide field shots while still being capable of taking much tighter nightscapes. The total focal length amounts to an astounding 910 mm, giving a mid-speed focal ratio of f/7.0.
Learn how to photograph the Milky Way with our simple guide
While most triplet refractors don't typically produce a flat field image, the Orion 130mm tends to be flatter than average. However, for optimal results, a field flattener is still recommended and helps deliver sharp contrast across the full field.
This model features a dual-speed (11:1) Crayford 3″ focuser with millimeter engraved drawtube and focus lock for precise control over your astro-images. It has a step-down to 2″ and accepts standard 2″ eyepieces. The focuser – including adjusting wheels – is also rotatable, with your camera attached you can keep focus while rotating for a different view.
The captured images are stunning. There is virtually no false color on DSOs (deep space objects), thanks to the ED glass used in the lens. Brighter objects may show minor aberration effects but nothing to be concerned about.
Solid and compact for both its weight and length, split clam tube rings easily secure it on any compatible mount with little hassle.
However, this is a heavy scope, 23 lbs (10kg) means you might appreciate help mounting it. With dew shield extended this scope is 38″ long, but the shield is retractable for storage and transporting, shortening the body to 32″.
The telescope does not come with a finderscope or eyepiece, all of your money is going into an exceptionally crafted lens and telescope body. Although the EON 130mm is supplied with a hard case for safe transportation.
Overall, this is an excellent telescope for astrophotography which will take high resolution, bright images. Stars are pin sharp, contrast is powerful and color presentation is almost flawless. With its smooth, accurate and strong focuser, this telescope will deliver stunning images of celestial objects.
Pros (3)
Accurate, smooth and solid focuser
Extremely sharp optical performance
Amazing contrast and color correction
Cons (3)
Case does not adapt to modifications
A heavy scope for mounting
No accessories supplied
---
Big Aperture: Orion ED80T CF Triplet Apochromatic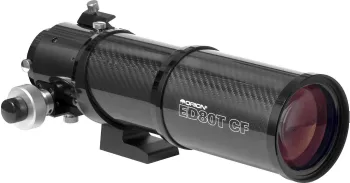 Another excellent example of a triplet, this smaller Orion ED80T Apochromatic Triplet exemplifies what a smaller astrophotography telescope should deliver.
This Orion is a relative bargain for its specification, costing just less than $1000 (see today's price). This light, 5.5 lbs telescope is ideal for a hobbyist or even professional that doesn't want to hassle with large equipment but still wants to take crystal clear pictures of the deep sky.
Its 3.1″ aperture may seem underwhelming, especially compared to the 130mm model above, but, unless you plan to spend all your imaging time on faint DSOs, this telescope strapped to an equatorial tripod is more than capable for most needs.
Its fully multi-coated, air-spaced triplet lens is made of FPL-53 extra-low dispersion glass. This eradicates color bleeding and produces perfectly sharp images. However, you will still benefit from using a field flattener for imaging objects beyond the solar system.
The focal ratio of f/6 and the total focal length of 480mm are more than adequate for viewing local celestial bodies and achieving wide shots of more distant ones. Its highest useful magnification is 160x, and it can be used as low as 12x.
Join the Virtual Astronomy Club for monthly objects to image
The ED80T has a retractable dew shield that helps prevent glare. When the dew shield is extended, the telescope is over 18″ long, but shrinks to 14″ for storage in the accompanying hard foam case when retracted. Unfortunately, Orion haven't designed the case to carry anything but the scope, so field flatteners and star diagonal will need to travel separately.
The dual speed 2″ Crayford focuser (11:1) is excellent for bringing any image into crisp view because tiny adjustments are delivered steadily and reliably. This model also comes with a 2″ to 1.25″ eyepiece adaptor, but no actual eyepieces.
This is one of our favorite telescopes for entering the world of astrophotography. Presented in a tough but good-looking carbon fibre tube, this easily mounted astro-imaging telescope is wonderful.
Pros (3)
Crisp imaging
Fantastic wide shots
Great color correction
Cons (3)
Requires field flattener

Smaller aperture
Few accessories
---
Entry Level: Sky-Watcher ProED 100mm Doublet
The Sky-Watcher ProED 100mm APO refractor telescope is the first doublet on our list. It's here because it's designed to eliminate most of the chromatic aberration problems that many doublets are known to experience.
This Sky-Watcher features their "ProED" glass, which delivers the color correction essential for great astroimaging. Their patented Metallic High Transmission Coatings virtually eliminate false color.
This 10 lbs. telescope has the inside of its optical tube painted matt-black and baffled to reduce stray light to practically zero. The limiting stellar magnitude is given as 12.7.
See our complete review of this Sky-Watcher ProED Telescope
The Sky-Watcher refractor telescope has a focal ratio of f/9.0 from a focal length of 900mm. Its highest practical magnification is 200x and it has the flexibility to deliver lunar, planetary, and DSO astrophotography with no hassle. The field of view is large when coupled with a suitable eyepiece.
Ultimately, it is a veritable jack-of-all-trades. As the cheapest scope on our list (check today's price), it is extremely affordable for the range of tasks it can do, which also makes it a good astrophotography telescope for beginners.
Unfortunately, there are some concerns regarding fragility and the accuracy of the focuser. This Sky-Watchers' focusing apparatus may need more frequent maintenance than more expensive builds.
These are our favorite Deep Space Objects to view
However, if you are after an entry-level astrophotography scope, you could do much worse than this model. Especially as it also comes supplied with an 8×50 finderscope, a two-inch 28mm eyepiece, and a 2″ diagonal with 1.25″ adaptor.
Pros (3)
Extremely adaptable
Great value for money
Useful accessories
Cons (3)
On the fragile side
Focuser may need upgrading
Jack of all trades scope
---
Huge Aperture: Celestron Edge 1100XLT Optical Tube Assembly
An expert level titan, the Celestron 11″ Edge HD OTA is an astrograph telescope boasting both extreme power and versatility.
The 28 lbs. telescope has a whopping 11″ aperture guaranteed to produce a flat plane image in the wide field of view eyepieces and imaging sensors. Celestron claim that the technology used in the EdgeHD series produce a focal plane image 3x flatter than a standard Schmidt-Cassegrain scope, and almost eliminates star coma.
The native focal rate of this scope is a relatively slow, very narrow field f/10.0. This is not optimal for astrophotography, as we discussed above, but the Edge has a trick up its sleeve – there are two methods for reducing its focal ratio.
Install an EdgeHD focal reducer and the ratio is reduced to a moderate f/7.0. Using Celestron's Fastar technology, where the secondary mirror can be removed, creates an ultra-fast ratio of f/2.0.
It should be no surprise that a telescope of this aperture and quality comes with a large price tag. The Celestron 11″ EdgeHD costs around $3,500 (today's price – link opens a new tab). But, for those hard-earned dollars, you'll get a huge aperture. If you want to go 'all-in' for the 14″ model instead, expect to spend around $6,000 – and you'll still need a quality mount on top of that.
This is one of our favorite wide field of view eyepieces
However, if it all seems a bit rich for your blood, and who can blame you, there are more financially palatable 9.25″ and 8″ versions of this scope.
The overall focal length of 2,800 mm allows for even the faintest areas of the deep sky to be photographed and viewed at their sharpest with relative ease. In fact, the resolution achieved with this scope is as low as 0.42 arcseconds. Lenses have StarBright XLT full coating to maximize light transmission.
Additional features which make this an ideal astrophotography scope include mirror clutches that keep the primary mirror in place without any tension – ideal for keeping celestial objects centered in long exposures. The tube is vented so warm air can escape but dust can't get in.
There'll be no shortage of objects to photograph either. With its 11″ aperture and high quality optics, the limiting stellar magnitude is 14, which would allow you to see tiny Pluto out at the edge of our solar system.
One area to be watchful of is the need for a precise positioning of your imager. The chip needs to be optimally placed – with millimeter precision – for focus to be achieved. To do this you'll need an adaptor (spacer), which adds more cost to your setup.
The OTA is supplied with a CGE dovetail bar, a 9×50 finderscope, a wide-angle 23mm Luminos eyepiece for 122x magnification (see our review), and a 2″ star diagonal.
The Celestron EdgeHD is undoubtedly a wonderful telescope for astrophotography, with its huge aperture, variable focal length and flat plane, you'll be mastering images for many years. However, this is not cheap and the spending does not end when you have the optical tube.
If money is not your primary consideration, then this 11″ Celestron may be your perfect astrophotography scope.
Pros (3)
Near-perfect imaging
Great for extreme DSO
Versatile telescope – great visually too
Cons (3)
Expertise an advantage
Very expensive
Photography focus requires perfect set-up
---
Essential Mount: Celestron Advanced VX computerized Mount
The final item in our astrophotography telescope reviews is not actually a telescope, but a mount. The Advanced VX computerized mount from Celestron, to be precise.
We said above that a high-quality setup is essential for taking pin-sharp astrophotographs. Paramount to this is a strong, sturdy and smooth-tracking mount and tripod. The Advanced VX is an excellent, high-quality mount.
This model has 2″ steel legs for stability with height index marks on them to make levelling easier. They also spread further apart than other mounts for improved stability. The design can manage 30 lbs of payload, which a photography rig can easily reach.
Looking for more options? These are our best telescopes of the year
The computerized motor has internal cabling, so set up is easy, and the hand controller will link to your preferred imaging software via a USB2 port. And, as a cherry on the cake, this mount can self-polar align using any star in the sky.
It has periodic error correction, an autoguider port and the wider CGE dovetail which will take Vixen dovetails longer than 100mm.
The computer itself has over 40,000 objects stored in its database and – a bonus for astrophotographers – this tripod is designed to track past the meridian without needing a meridian flip.
Its slew speed is geared, so the control is fine when tracking but a fast 5° per second when initially seeking your target.
This is a great choice mount if you're looking to upgrade from the one you currently use for astronomy to the more professional requirements of astrophotography. It's suitable for use in most of the northern hemisphere, from 7° to 77°.
Pros (3)
Extremely steady & stable
Lightweight for its capacity
Great astrophotography choice
Cons (3)
Polar axis finder is limited
Price of a decent scope
No bubble level
---
Summary
While all of the products under review here are superb, we would be most surprised if someone were to walk away dissatisfied from a purchase of the Orion 9534 ED80T CF Triplet in particular.
Due to its wonderful range of use, accessibility, and portability, it combines the perfect bang-for-buck ratio for any astrophotographer, regardless of skill level.
Further Reading
If you've enjoyed what you've read and want to explore the world astrophotography some more, then check out these great resources dedicated to the cause:
Astrophotography Websites
Astrophotography Books
Last update on 2023-05-25 / Affiliate links / Images from Amazon Product Advertising API