We're eager to get the next generation of astronomers enjoying backyard astronomy. If you are keen to get your children – or grandchildren – gazing at the wonders of the night sky, then our best telescopes for kids review is just what you need.
There are challenges in choosing a telescope suitable for children to use. You need to strike a balance between not spending too much, because kids can be unforgiving with stuff, and not buying junk. If the child(ren) in your life end up with a poor quality scope, they'll end up not enjoying astronomy at exactly the time in their lives when you want them to love it.
The other big watchout when selecting a new children's telescope is matching the size and complexity of the scope to the age and capability of the child. What a 13 year old needs from a telescope is different from that of a seven year old.
We've gone to great lengths to find five telescope models that strike both the budget balance and appeal to different ages of mini stargazer. Our top five are in the table below, click the 'Full Review' link in the table to see why recommend each of these models.
---
Our Recommended Telescopes for Children
What Makes a Great Kids Telescope?
To answer this question, we need to think a bit differently than normal.
When we want the young person in our life to take up astronomy, we have to think about what's in it for them… from their perspective.
For a little more help choosing your child's telescope, use our telescope picker.
The youngest children, say three and above, will likely have a very short attention span and well be content looking through your eyepiece at the moon and planets.
Once kids get older, around seven or eight and onwards, they are much more likely to want their own telescope. When that happens there are considerations that we have to account for.
Child astronomers share many of the following characteristics:
A desire to learn
A sense of awe and wonder at the world around them
Short attention spans
A need for instant gratification
A disinterest in the 'boring' (but often essential) elements of any activity
Short height
Weaker muscles
Little appreciation for the cost of a scope
A likelihood to treat equipment less respectfully than you would
Some items on this list might feel unkind to our young relatives, but thinking about them honestly will make sure we choose a telescope that's right for them.
Practically, this means we need a telescope that is age-appropriate. For example, something small, easy and cheap is a lot better for younger children. They can use it to see craters on the moon and the brightest planets and will be forgiving of less careful users.
However, if we gave the very same telescope to a young teenager they'd likely become bored of astronomy very quickly.
Teenagers want to feel trusted with a great piece of equipment and they'll want to see spectacular sights through it beyond the moon and saturn. Think, for example, about how excited your older child will be at the prospect of seeing a distant galaxy.
Finally, we need to consider how involved with the telescope itself – outside of stargazing – our young person will want to be.
Is your child one who will enjoy working with you on collimating, polar aligning and general telescope set-up, or will they prefer instant, out-of-the-box gratification?
Choosing the best telescope for children is much simpler when we think about it from their perspective. How much time and commitment are they likely to give astronomy, how careful and considerate are they of equipment and how involved will they want to be with telescope setup and care?
When you know the answers to these questions, you're in a great place to choose them the perfect model.
---
Best Children's Telescopes – Full Reviews
We've reviewed many telescope models from the perspective of a child and we're happy to recommend the five below as our best telescopes for kids.
Within each review we've set a guide to the age group the telescope is most suitable for.
Younger Kids: Celestron AstroMaster 70AZ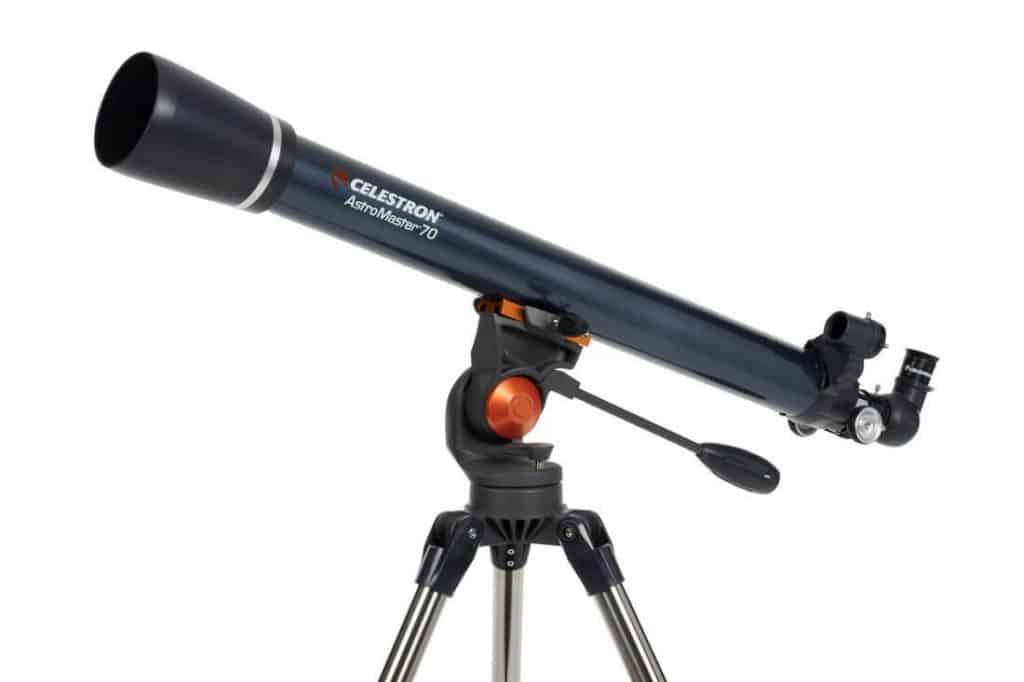 The Amazon AstroMaster range is the most famous entry-level range of telescopes there is. This 70mm altazimuth refractor telescope from the range is the perfect first step into astronomy for younger children.
Read our full review of the AstroMaster 70AZ Refractor telescope
The altazimuth mount is a really simple design, allowing even young little arms to move the scope in every direction. It is light, easy to move and the mount can be set up without the legs fully extended, making it easy for youngsters to reach. There's also no need to worry about polar aligning.
It ​is the cheapest 'normal' telescope in the review (the Orion, below, is a travel scope), which might make you more relaxed about less delicate treatment from inquisitive hands. Even so, it's robust enough to withstand less delicate usage from our aspiring young astronomers.
Whilst there are positives to this refractor telescope, the obvious downside is its aperture. With just a 70mm (2.75″) opening your youngster is not going to be exploring many of the wonders of space. It is not much bigger than some binoculars.
This AstroMaster comes with two eyepieces, allowing your budding young astronomer to zoom into lunar surface detail, and a red dot finderscope to navigate the stars.
This is a great scope to gift to younger children, but they will outgrow it quickly if they become hooked on stargazing. So, be warned, you'll might spend less than $150 on this scope (click the orange button below for today's price)… but you'll create a demand for a bigger scope in the future!
See our full astronomy binoculars review, they're a great way of starting kids off.

However, it will provide younger children with their first awe-inspiring views of the moon and you will see discs of the brighter planets and the moons of Jupiter.
Pros (2)
Very low cost
Ideal for the youngest kids
Cons (2)
Only suitable for the moon and bright planets
Soon outgrown
---
Older Children: Orion SkyQuest XT6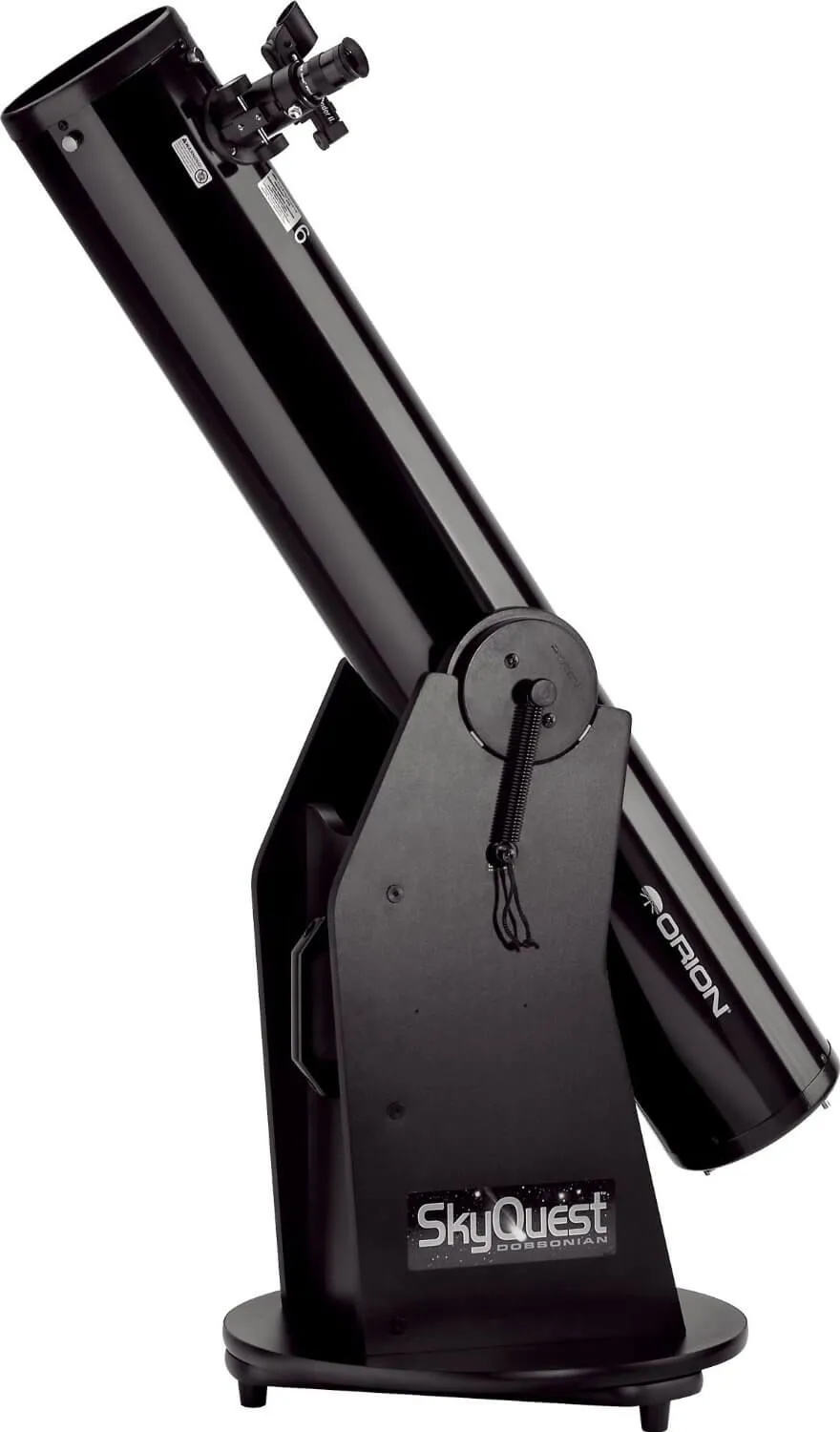 This 6-inch Dobsonian 'SkyQuest' from Orion is an ideal telescope choice for older children for a couple of reasons.
Visit our longer, dedicated review of Orion's SkyQuest XT6 telescope (opens in a new tab)
The first reason is the Dobsonian base (Dobsonian refers to the mount style, not the scope). The advantage for children of a Dob base is they are super simple to setup and use, although their weight might mean parental help is required.
This simple base swivels left/right and up/down. It uses friction to keep it in place, doesn't need polar aligning and is really easy for younger arms to move.
The second reason this is perhaps our best telescope for kids – especially older ones – is that its cheap-to-make Dob base means more of your money goes into making a bigger telescope.
With this Orion, you'll gift your child a 6″ telescope, which is the top end of kids sizes. It is robust, simple to use and will deliver great views, and all for under $300 (check Amazon's price by clicking the button below).
With a 6″ aperture, your younger stargazer will comfortably see the bands of Jupiter and rings of Saturn, as well as deep space objects like Orion Nebula and Andromeda Galaxy.
There are two slight downsides for a Dobsonian. Firstly, its size – its long tube length is not so easy to use for shorter/younger children. They may struggle to reach the eyepiece when it is pointing straight up. Secondly, as with all reflectors, you'll need to collimate the mirror from time to time, but it is a simple enough job.
There's no reason why older kids can't enjoy this big scope to themselves, perhaps with a little adult help setting up. With the whopping 6″ aperture (the largest in this review) there is almost no end to the objects they c
an find… planets, nebulae and galaxies are all within easy reach, making it a firm favorite kids scope.
Pros (2)
Large aperture at low cost
Child-friendly Dobsonian mount
Cons (2)
Too long for young kids
Bulky to move/set up without an adult
---
Young Adults: Celestron PowerSeeker 127EQ
Focal Length
1000mm, f/7.9
It doesn't look much but the Celestron 127EQ Astromaster is consistently on Amazon's list of best-selling telescopes.
And with good reason!
With this model, Celestron has really played to their strengths, which is delivering decent quality for a fair price. In this case, the young astronomer in your life gets 5 inches of reflecting telescope on an equatorial mount and all for much less than $200.
An equatorial mount is not the best for younger children – it needs to be polar aligned and can be quite hard to set up (it's bigger than it looks!). However, for older children, say over 10, this is a great way to learn astronomy. Equatorial mounts align with the Earth's rotation, so when you have an object in the eyepiece it is much easier to track.
This is a Newtonian reflector scope. It uses a 5″ mirror, and a smaller secondary mirror, to reflect and focus the image to an eyepiece on the side of the scope. In all reflectors, the mirrors get knocked out of alignment with use, so you (or your child) will need to collimate them from time to time.
Five inches is a useful starter size for a scope and is a large enough aperture to show details of planets – and their moons – within our solar system, as well as a host of brighter galaxies, star clusters and nebulae outside of it.
The 127EQ is supplied with a decent starter pack of accessories, including 20mm and 4mm eyepieces, which provide 50x and 250x magnification respectively, and a 3x Barlow lens which can be used with the 20mm eyepiece to give 150x magnification.
In reality, your child will rarely have need (or good enough skies) to use 250x magnification, so you will almost certainly need to add one or two more eyepieces to provide a range of magnification.
We have an in-depth review of this 127EQ PowerSeeker, click here to read it.
This is a well priced starter model for older children (click the button below to see today's Amazon price). With its equatorial mount there is more going on to keep an enthusiastic mind occupied, and its five inch mirror will deliver rewarding views of the night sky. The teenager in your life will be very excited to own this.
Pros (2)
Great value for money
Older kids will feel like 'real' astronomers
Cons (2)
Hard for younger children to setup
Eyepieces need adding to/upgrading
---
Tech Lovers: Celestron NexStar 90SLT
Focal Length
1250mm, f/14
This kids' telescope is an outlier when it comes to price. The NexStar 90SLT Maksutov-Cassegrain telescope from Celestron retails around the $300 mark (click the button below for today's price), and all for a relatively small aperture.
So, why is this model in our choice of telescopes for children?
Well, there are many astronomers out there – including children – who love looking at celestial objects but don't enjoy trying to find them. A motorized telescope like this baby model of the NexStar range offers just that.
With simple, computerized setup, your young astronomer can consult the database of 40,000 objects and have the scope pointed at exactly the right spot within seconds, so you hardly need the supplied red dot finderscope except to set up the tracking.
The downside of having computer wizardry at your fingertips is the cost. More specifically, more of your budget goes into the mechanics, so there is less of it left for the optics. Your big spend will net you just 3.5″ of aperture, which will place a severe limit on what can be seen. That 40,000-object database is not much use if you can only study the moon, planets and very brightest deep space objects.
The 90SLT is supplied with two eyepieces, a 9mm and 25mm, which provide 139x and 50x magnification, respectively. The 9mm is really too powerful for a scope of this aperture, except for looking at the Moon, so you'll need to grab a 12/15mm and maybe even a 35mm to get better results.
Our advice is to have your eyes open if you choose a compound model like this one. For about the same price, you could by your child the SkyQuest XT6 (above). Its six inch mirror has 5x more light gathering power than this 90mm NexStar. Granted, it's not as easy to find objects in the sky with a Dob, but they will look a lot better when you do.
If your son or daughter has their heart set on a compound, go-to scope, then this is just about the cheapest way to ge
t one (but the higher spec NexStar 4SE is not much more expensive, read our full-length review). But, if their goal is to see details on Jupiter's and Mars's surfaces, and objects outside the solar system, like galaxies, then give serious consideration to a larger aperture at a smaller cost.
---
Kids Vacation: Orion GoScope 80mm
Focal Length
350mm, f/4.3
This 80mm Orion TravelScope offer something a bit different compared to the rest of the models in our list. This is a great little scope for a kids vacation. It weighs 6.5lbs, is supplied with its own carry case and used just about anywhere with a stable platform.
Summer breaks and spring camping trips, with time away from the TV, are great times to get any child engaged in backyard astronomy. With this model, it's super simple too, place it on a sturdy platform and point it in the right direction – that's it!
The GoScope comes with two eyepieces, both provide low magnification best suited for brighter, larger objects like the moon, Jupiter and Saturn. You could buy a lower sized eyepiece for a higher magnification of dimmer objects like Mars and even a bright star cluster or two.
As you'd expect with a good scope for vacations, it has a small 90mm aperture. The young stargazers in your life will not see faint objects through it! But, this telescope may be the perfect way of introducing children as young as 4 or 5 to the wonders of a dark sky.
---
Summary
We've looked at five great examples of kids' telescopes. There are two refractor telescopes, one Dobsonian, one reflector telescope and a Maksutov Cassegrain (compound) scope.
Remember, our criteria was telescopes for kids need to be easy to use, effective (i.e. you can see exciting stuff through it), robust and not too expensive. We measured all of this from the point of view of the child, keeping in mind whether the scope is more suitable for younger kids or teenagers.
Our overall best telescope for kids is the Orion SkyQuest XT6, but there are no bad ones on our list.
Overall, we salute you for investing in the child in your life. Making the time to share the experience of stargazing with them could have them hooked for life!
---
Last update on 2023-09-22 / Affiliate links / Images from Amazon Product Advertising API