Do you find the price of telescopes daunting, and are not sure how to find the best telescope for the money?
If so, you're not on your own! Many people are put off even starting a hobby in backyard astronomy because a telescope can be so expensive. However, not all of them are.
The four best budget telescopes reviewed below are all popular models at a fantastic entry-level price, ranging from less than $150 to about $250.
Click on the 'full review' link to see why we recommend these models.
---
Our Recommended Cheapest Telescopes
Celestron AstroMaster 70AZ
---
Buyer's Guide to Choosing the Best Budget Telescope
The great thing about cheaper telescopes is that manufacturers save costs by focusing all their effort into the scopes aperture. They make the largest lens or mirror they can for the price.
This means that you can be sure you're getting just about as big a telescope as you can for the money when buying off this list.
The downside is that compromises in quality get made in other areas of the telescope's design. For example, the Celestron AstroMaster has a mount that is prone to vibration because it is made of thinner and cheaper materials than a higher priced model.
There are lots of cheap and free ways of dampening telescope vibrations.
Although manufacturers aim to maximize aperture at these prices, the reality is they are still small, which limits what they can show you. They will all do a fine job of showing the brightest objects in the sky, so expect to see great views of the moon, Jupiter and saturn.
The picture below (source) gives a representation of what Jupiter will look like through a 2″ telescope (left) and a 4″ model. Keep in mind that these are pictures are taken with a camera. You will not see Jupiter in color with your own eyes through a telescope of this size because there is not enough light to activate the color-seeing parts of your eye.
Dimmer objects are more challenging with smaller scopes because these apertures don't collect enough light to see them well, so nebulae and galaxies are not going to be easy to find or impressive to see.
If galaxies are your thing, see our review of telescopes for seeing deep space objects.
Finally, the same rules of telescope pricing apply even at this budget end of the scale. You'll get more aperture in a Dobsonian telescope, like the Orion SkyQuest than you will for a refractor like the Meade.
What every telescope buyer wants to know is "what can I see through a small telescope?", so we'll look at that next.
What Can I See With a Small Telescope?
Smaller aperture telescopes limit what you can see, but they reveal many more objects and details than binoculars.​ These are some night sky highlights that a 3″ telescope will show:
As long as you understand the limits to a small telescope's capabilities, they are definitely worth buying to get started with astronomy.
---
Best Telescopes for the Money – Full Reviews
These are our detailed reviews of the four telescopes which you can buy for very little money which will deliver great views of brighter objects, like the moon and planets.
Cheapest Model: Celestron AstroMaster 70AZ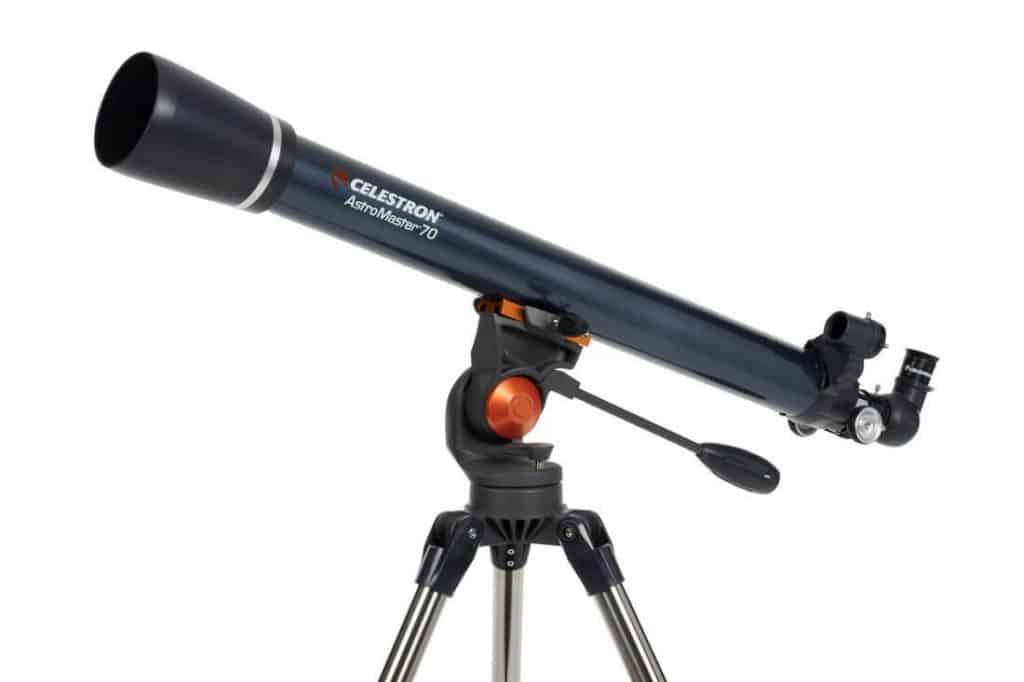 Celestron's 70mm AstroMaster is an incredibly popular, low-price starter telescope.
This little refractor is simple to get up and running in minutes. It's a basic model, but that works in its favor for new backyard astronomers because it requires very little construction.
Read our complete review of the AstroMaster 70AZ Refractor
It's light enough to take anywhere with you. A quick walk across a field, or a short drive to the edge of town for darker skies? Not a problem with this small scope!
The downside? At 70mm – less than 3 inches – this is the smallest aperture telescope on our list. Which means it collects less light than the others, so you'll be limited on what you can see and how much magnification you can use.
However, if you've never looked through a telescope before, you'll still be thrilled with your first views of solar system bodies like the moon, Venus, Jupiter and Saturn. Just don't expect to see fainter objects like galaxies and nebulae.
Inside the box are two eyepieces of the Kelner type which are cheaper than Plössls but okay to get you started. They are 20mm and 10mm and will provide magnification of 45x and 90x respectively, which is just fine for a scope of this size.
We've reviewed 16 of the best telescopes on the market today (opens new tab).
The biggest drawback with this scope is the quality of its stand. To hit a price point of around $130 (click here for today's price), Celestron has had to make some compromises here. The mount is prone to vibration, which can make for frustrating astronomy sessions. It is cheap and simple to add stability though, as this article shows.
Overall, if you just want to try out astronomy and don't want to spend loads of money doing it, then this is just about the cheapest option. It is a great telescope for beginners.
Pros (3)
Very cheap telescope
Simple to set up
Light and easy to move
Cons (3)
Very small aperture
Vibrating mount
Limited to brightest objects
---
Easy Tracking: Orion StarBlast 4.5″ Reflector
Focal Length
4500mm, f/4.0
Out of the box, this Orion StarBlast II 4.5EQ comes with an equatorial mount and 25mm and 10mm Plössl eyepieces. Plössls give 18x and 45x magnification respectively, which is a great way to begin your eyepiece collection.
Unlike the AstroMaster, above, this Orion comes on a more sturdy and robust mount, which is great for dampening down vibrations. Its 4.5″ aperture is 50% wider than the AstroMaster's and, thanks to physics, delivers 2.7x more light to your eyes.
That light collecting power makes a big difference to your astronomy experience. You'll see bands on Jupiter's surface and rewarding views of the brighter deep space objects, such as the Pleiades and the Orion Nebula.
See our review of this year's best telescopes
On a good night, you will be able to see Andromeda Galaxy, some 2 million light-years away and containing around 1 billion stars.
Reflector telescopes work using mirrors to collect and focus light, rather than lenses. The objective mirror (the main one) is mounted at the rear of the tube and, in this scope, has a 4.5″ diameter. Over time and use reflector mirrors come out of alignment and need to be tweaked back into the correct position in a process known as collimation. You can read our collimation guide here.
The biggest challenge for new astronomers with this kind of scope is setting up the equatorial mount. Equatorials are fantastic though because they make it much easier to track celestial objects as they move across the sky. Helpfully, Orion has high-quality set-up videos on its own website. You can access them, and instruction manuals for this telescope, by clicking this link.
You can also pay slightly more to grab the StarBlast with integrated tracking. This computerized telescope will auto-follow objects across the sky for your enjoyment.
You'll spend around $200 to own this telescope (click here for today's Amazon price), which keeps it firmly in the 'beginner' category, but you get a larger aperture, great support materials from Orion and the chance to see some of the brightest wonders of the night sky.
Pros (3)
Big aperture for the money
Strong equatorial mount
Two Plössl eyepieces
Cons (2)
Equatorial mount harder to set up
You'll need to learn collimation
---
Sturdy Dob: Orion SkyQuest XT4.5″ Dobsonian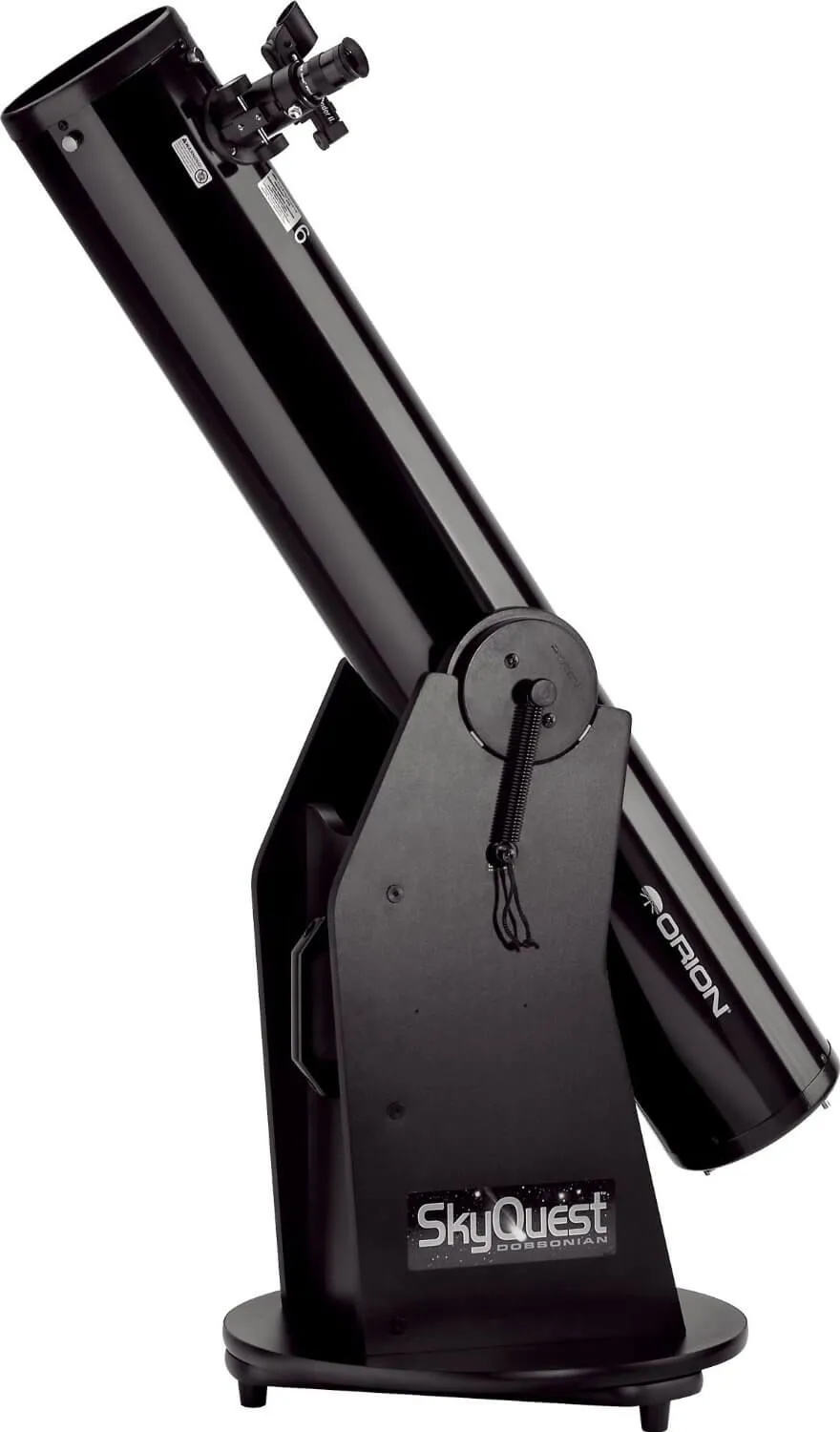 Orion's SkyQuest XT4.5 telescope is the baby of the SkyQuest range which extends all the way to a monster 14″ model. They are a very well made range, including this value for money four and a half incher.
Read our detailed SkyQuest XT4.5 review
While it is the same aperture as the StarBlast above, this scope is mounted on a sturdy Dobsonian base. The Dob's advantages are that it is simple to set up, very sturdy and vibration-free, and looking at celestial objects is as easy as point-and-shoot.
Dobsonian Telescopes are known as 'light buckets', although its 4.5″ primary mirror pushes the boundaries of that description. You will get stunning views of solar system objects like the moon, Saturn and Jupiter, as well as brighter deep sky objects. This makes it a great choice for stargazing kids, especially with its ease of use.
With the telescope you get a 10mm and a 25mm Plössl eyepiece, giving 90x and 36x magnification. There's also a 2x Barlow Lens, which doubles those magnification levels to 180x and 72x, and the finderscope is a decent 6×26.
When you are set up, you'll find the Dob base has very low levels of vibration and is a much more enjoyable mount to use at this price point. It is also designed to be easily transportable to the dark location of your choice.
Looking for a kids' telescope? See our full review of the best ones here.
Overall, this is a fantastic telescope. It has a big aperture for the price, which is more than capable of revealing deep space objects, and is easy to set up with reliable performance. If you like the look of this model, check out the XT6 which will show you much more for around an extra $30.
Pros (3)
Big aperture for the money
Sturdy Dobsonian base
Very easy to use
---
Portable Astronomy: Meade Infinity 102AZ
We finish our review of the best budget telescopes with the Meade 102AZ Infinity refractor.
Out of the box, this telescope comes with an altazimuth (or 'point and shoot') stand. It is supplied with 6.3mm, 9mm and 26mm eyepieces, providing 95x, 67x and 23x magnification respectively.
Most of your budget of about $200 (see today's Amazon price) goes into the good size lens, so these eyepieces are cheaper modified achromats and nothing to get excited about. You will likely want to upgrade to Plössls very soon after you get hooked on astronomy.
Learn more about telescope eyepieces with our detailed reviews
As we've seen on other scopes, hitting 'value for money' price points often means weaker stands which are prone to vibration. This model is no exception, but there are simple free and inexpensive ways to dampen vibrations.
Four inches is a good size for a refractor telescope. A lens that size in a high end scope will easily cost several thousand dollars. The difference at this price point is the quality of the lens.
It does suffer from some chromatic aberration, so expect to see some color leaking at the edges of bright celestial objects. The field is also not as flat as high end models, so stars have coma and some detail is lost at the edge of the field.
However… if you are looking for a decent starter refractor, then you could do a lot worse than this Meade. Its decent starter aperture will show you great views of the night sky and, for many, it will do so more joyfully than other models on our list.
Read our complete review of the Meade Infinity 102AZ telescope
The bonus point for this telescope is awarded to its short tube. This makes it easy to set up and use, even for children. It is particularly effortless to pack into the trunk when heading off on vacation or a weekend camping trip.
All in all, this is a wonderful little model and offers superb value for money.
Pros (3)
Decent lens aperture
Simple setup and use
Light and easy to transport
Cons (3)
Not the biggest aperture
Mount prone to vibration
Poor eyepieces supplied
---
Summary
In many ways it is harder to choose a telescope on a small budget.
You need to work out how to get the best value for your smaller outlay, which means balancing the size of aperture versus usefulness in the field.
What we've presented in this list is a selection of the best telescopes that will let you do enjoyable astronomy but still for a smaller budget.
Whether you want a Dobsonian, refractor, reflector or something for camping trips, there's an ideal model for you to begin this fantastic hobby.
Last update on 2023-12-08 / Affiliate links / Images from Amazon Product Advertising API