Overview
Anyone who is familiar with APO triplets like this one is aware that these scopes are the holy grail of backyard astronomy. Orion has a well-established reputation for producing quality telescopes with impressive optical quality at virtually any price point, and they've pulled out all the stops with the top-end Orion EON 130mm ED Triplet Apochromatic Refractor Telescope.
This telescope is part of Orion's high-end EON line of scopes, which include triplets in 85mm, 104mm, and 115mm. There's also 110mm doublet in the line-up.
The 85mm and 104mm scopes are APO triplets, just like this one, albeit with a smaller aperture. These smaller scopes are ideal for visual observation and astrophotography, like the 130mm. But, they just don't suck in quite as much light for illuminating deep-sky objects.
Meanwhile, the 110mm scope in this line is the only non-triplet model. The 110mm is an air-spaced doublet that still provides impressive clarity and high performance for visual observation as well as astrophotography. That model is also significantly more affordable than the pricier triplets in the line. While it's a capable scope and a great value, it can't deliver the same performance or clarity as the EON triplets.
We mentioned that apochromatic triplets are the holy grail of refractor telescopes, and they're priced accordingly. The lenses in these telescopes are remarkably expensive to produce, especially as they grow larger. Some APO triplets can easily eclipse $10,000, and by that measure, the EON 130 is a veritable deal at around $2,500 (today's price – opens a new tab).
Things to Consider Before Buying
When you're shopping for any new telescope, there's plenty to consider before you make a decision, especially when you're dealing with an expensive triplet like this model.
This model is a top-of-the-line refractor, and it's among the best telescopes money can buy. It's an ideal telescope for serious hobbyists looking for the sharpest image quality they can get, particularly when it comes to astrophotography. Of course, with its five-inch aperture, this scope also makes a fantastic scope for visual observation, so it's an enticing choice whether you're interested in astrophotography or not.
This telescope is ideal for astronomers with experience who have already amassed a good amount of gear. This telescope includes only the optical tube assembly (OTA) and a high quality hard protective case – there is no mount, eyepieces, or additional accessories included for your money.
Most serious hobbyists have plenty of eyepieces kicking around, and they know exactly which type of mount they prefer for both visual observation and astrophotography. In this way, this EON scope is ideal because it allows experienced observers to build out their telescope to their exact specifications instead of paying for accessories you may not be interested in.
At nearly $2,500, less experienced astronomers may feel like they're being ripped off. But, this is the nature of APO triplets, as they're incredibly expensive to produce. Three lens elements are used with a triplet instead of one or two, and these elements are costly to make, especially in larger sizes, like this 5″ (130mm) model.
If you are new to astronomy and money is no object, you'll also need to invest in a quality mount, eyepieces, and other accessories to make the telescope functional. These additionals can drive the total cost of this telescope well north of $3,500, depending on the accessories you choose.
It's also much more telescope than you need when you're getting your start as an astronomer. While there's nothing wrong with a beginner owning a top-of-the-line telescope, you'll be better suited with a more affordable option to start with. You can, for instance, get a much larger Dobsonian for a fraction of the price.
As you get more experienced, you'll begin to learn what kind of features you want when you step up to a high-end model which delivers exceptional contrast and brightness for pin-sharp viewing and imaging.
Features & Benefits
The easiest way to evaluate and decide on a particular scope is to consider the different features and benefits it provides to see if they're a strong fit for the type of astronomy you're interested in. Whether you're purchasing your first scope or your hundredth, the criteria below will make it much easier for you to decide whether it's a good option for you.
Optical performance
Mount performance
Included equipment
Setup & Use
What you can see
Astrophotography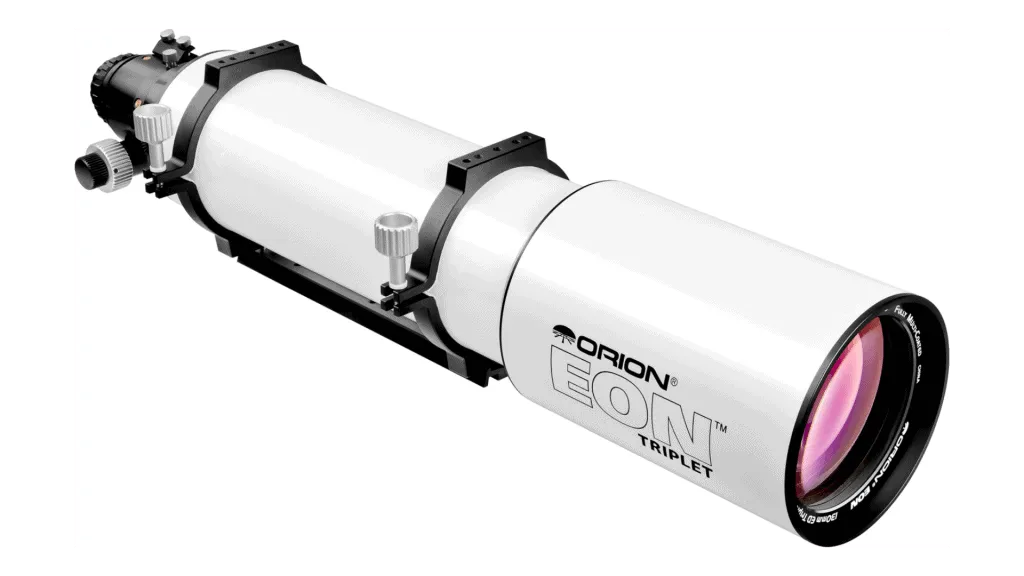 Standard Magnification Table
The table below shows the magnification levels you'll achieve with this scope using a 25mm, 18mm, and 10mm eyepiece. The bottom row shows what this would be with a 2x Barlow Lens.
| | | | |
| --- | --- | --- | --- |
| Eyepiece: | 25mm | 18mm | 10mm |
| Magnification: | 36x | 51x | 91x |
| With 2x Barlow: | 73x | 101x | 182x |
Table shows magnifications in this model
Optical Performance
Perhaps the single most important factor to consider is the optical quality of a telescope. After all, you won't enjoy observing the night sky if the telescope you're gazing through has poorly made optical components.
APO triplets are widely revered as the best refractor telescopes on the planet. Many astronomers will argue that they're simply the best telescope, period, when it comes to backyard astronomy.
Apochromatic lenses are specially treated to eliminate the main optical issue that plagues refractor telescopes: chromatic aberration.
Chromatic aberration occurs when the lens elements inside the scope can't focus each light color at the same position, which results in color fringing. To the eye, this is visible as halos of light around bright objects, such as stars.
This aberration is unpleasant for visual observing, and it will ruin any chance you have to capture great photographs. Fortunately, high-end refractors are designed to eliminate this aberration, and it's a non-factor with APO triplets like this one.
With an apochromatic triplet, three different fully-coated lens elements are used. These three simplified lenses work together to produce the image you see when you look through the telescope eyepiece. Each lens helps to correct against different aberrations, so when you look through the eyepiece, you're able to enjoy an incredibly clear and crisp image that's just as the sky intended it to look.
The EON 130mm features three air-spaced lens elements. Each lens has anti-reflective multi-coatings, which allow for superior light transmission, and the blackened lens edges provide incredibly rich contrast. Two internal knife-edge baffles help prevent off-axis reflections from making their way to the eyepiece, which adds even more contrast.
The more light a telescope takes in, the more you'll be able to observe. Telescopes with smaller apertures aren't able to suck in the amount of light needed to illuminate deep sky objects. Meanwhile, the 130mm EON scope is a giant by refractor standards, and it's your best bet if you're interested in viewing Messiers and other deep-sky objects.
Refractors can deliver higher contrast than their reflector counterparts because there is no secondary mirror hanging in the way of light entering the aperture. Orion's 5″ model pulls in lots of light, completely unobstructed, and its triplet lens delivers an image clarity which is second to none. Sharpness and brightness are truly stunning.
Compared to other APO triplets, this 130mm EON stacks up incredibly well. In fact, they seem to do a better job at delivering value than other manufacturers, as many of the competing triplets eclipse $4,000. Many astronomers are hard-pressed to find any optical quality differences when comparing the EON 130mm to more expensive triplets.
This telescope is supplied without eyepieces, so you'll need to select the best options from their existing eyepiece collection or purchase something specifically for this scope. This scope's highest theoretical magnification is 260x, so it's perfectly suited for use with anything from a 6mm Gold Line up to 35mm or greater eyepieces.
While the eyepiece you select will affect your field of view, the scope's mid-range focal ratio of f/7.0 provides a moderately wide field of view that's well suited to capturing lunar and planetary detail and best suited for deep-sky viewing.
Mount Performance
Since no mount is supplied with this OTA, you'll be able to pair this scope with the mount of your choice. Depending on what you're hoping to do with this telescope, some mounts may be better suited to your needs than others. The OTA comes with a Vixen-style mount attachment.
If you're interested in astrophotography, you'll need to spend a bit more time considering which mount to buy. Regardless of the style you choose, a motor drive system is an absolute requirement for astrophotography. You'll also need to ensure that the mount you choose has plenty of weight capacity.
The OTA of this telescope is relatively heavy at nearly 23 pounds, and astrophotography equipment can add several extra pounds to your setup, so you'll want a heavy-duty mount that can support a telescope weighing 30 pounds or more to be safe.
Included Equipment
There isn't much to discuss when it comes to included equipment with this telescope. Beyond the OTA, you'll also receive dust covers, a retractable dew shield, a heavy-duty 2.5" dual-speed rack, and pinion focuser, and a custom-molded hardshell case.
The dust covers and dew shield are self-explanatory, but the focuser is worth discussing in greater detail.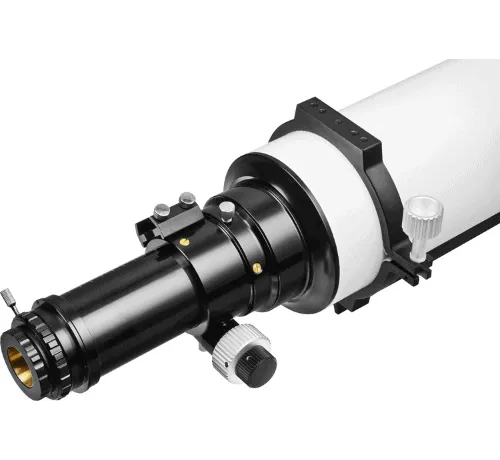 The 2.5" focuser offers precision 10:1 fine focus control with a finderscope base for attaching the finderscope or reflex sight of your choice. The focuser has a massive 2.5" drawtube with an engraved millimeter scale, which makes it easy for astronomers to achieve the same focus settings time after time. A focus-lock thumb screw helps keep everything firmly in place, and the whole apparatus can be rotated, with camera attached, to set your images up perfectly.
The drawtube has a 2" accessory collar and 1.25" adapter with brass compression rings and a twist-lock mechanism for securing a diagonal or camera to the OTA.
The hardshell flight-style case is an especially welcomed addition to this package, and it provides you with peace of mind knowing that your prized investment is safe and sound inside the case. The case is custom-molded for this OTA, and it features thick and dense foam padding to help protect your telescope against anything you throw at it.
Setup & Use
Setting up this powerful telescope is incredibly simple. All you'll need to do is attach the OTA to the mount of your choice using the supplied Vixen-style dovetail plate, pop in the eyepiece of your choice, and find something beautiful to look at.
The optical tube weighs in at 22.5 pounds, so it's easy to travel with whether you're carrying it by hand or transporting it in a car. Since this is a refractor telescope and you won't have to worry about collimation, you can transport this scope without worrying about making adjustments to the internal components if you knock into something or hit a pothole on your travels.
No software or hardware is included with this telescope, but most astronomers choose to add a GoTo module to this scope to make it even easier to find different objects in the night sky.
What You Can See
Another crucial consideration to make is what you'll be able to see through your telescope. With the EON 130mm, you'll be able to enjoy so much of what the night sky has to offer.
With its 5.1" aperture, this telescope can draw in tons of light, and the advanced optics inside make the most of all the light the scope draws in. From the Moon to the most distant DSOs, this telescope is a true performer.
For lunar and planetary viewing, this telescope offers incredible detail and clarity with a field of view that's well suited to capturing unique details of the moon, planets, and stars. If you're most interested in our solar system, you'll be able to take in the incredible topography of the moon, the cloud belts of Jupiter, the rings of Saturn, double stars, and so much more.
But, where this telescope truly excels is when it comes to deep-sky viewing. From the Messier objects to other deep-sky sights such as distant galaxies and nebulae, this telescope provides incredible crispness and unrivaled clarity.
Astrophotography
For astronomers interested in astrophotography, the EON 130mm is a holy grail telescope. When paired with the right equipment, photogs will be able to capture incredible images of everything from the moon to the deep sky with this powerful APO triplet from Orion.
With its 910mm focal length and f/7.0 focal ratio, the Orion EOD 130mm APO triplet provides a medium-wide field of view that's especially well suited to Messiers and other DSOs. The high-quality optics virtually eliminate false color, so you'll be able to take breathtaking long exposures with this scope.
Bumping up the magnification with a Barlow or high-powered eyepiece will also allow you to capture incredible detail on the Moon and planets, so this scope is a solid option for astronomers who are interested in photographing both near-sky and deep-sky objects.
Of course, you'll need to pair this telescope with an alt-az or EQ mount that has ample capacity to support the 22.5-pound optical tube in addition to whatever camera and accessories you'll be using. You'll also need a motor drive system for the mount for long exposures so the telescope can accurately track the object through the sky.