Introduction
Most novice astronomers get their start with an inexpensive telescope that allows them to get a closer look at the moon and the brighter planets in our solar system. But, if your interest has continued beyond these bodies, your telescope may be letting you down, as it can't produce the clarity or sharpness necessary for viewing deep space.
Enter the AstroView 120ST telescope from Orion, a brand which you'll find in our best telescopes of the year list multiple times. This model provides novice and advanced astronomers with a rich field telescope that offers a unique perspective and incredible image clarity.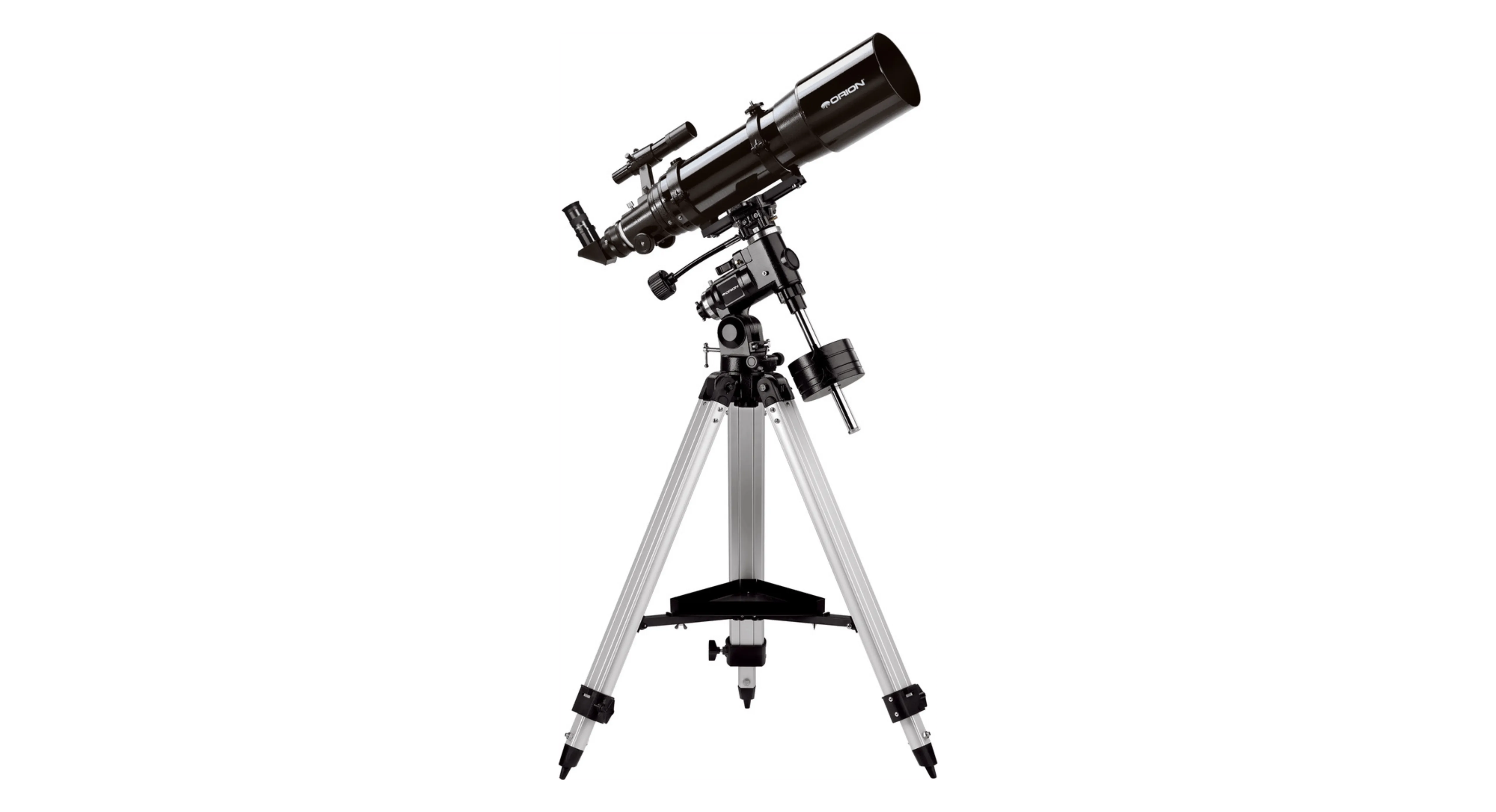 At almost five inches, this is a large refractor, which is why it commands a relatively large price tag too. But that huge objective lens brings a level of clarity and detail which is hard to come by in cheaper refractor telescopes.
The 120ST is the crown jewel of the AstroView line, which includes the AstroView 6 and AstroView 90mm scopes.
The 6 is a larger Newtonian reflector, while the 90 is a smaller version of the 120. Both are available in the $300-500 range.
This top-of-the-line 120ST commands a price of around $600 (see today's price – opens in a new tab). As our investigation into how much telescopes cost showed, the craftsmanship required to make a decent refractor means they always cost more than a reflector.
Things to Consider Before Buying the AstroView 120ST
This scope has a relatively short focal length of just 600mm (the ST in its name stands for Short Tube). As you can see on our astronomy formulas page, shorter focal lengths mean you get lower magnification for any given eyepiece.
For example, a 10mm eyepiece in this scope gives 60x magnification, whereas in Orion's XT10 Dobsonian, with its 1200mm focal length, the same eyepiece gives a magnification of 120x.
Why is this important?
Well, magnification has a direct impact on your field of view. Lower magnifications provide wider fields of view. All of which means the 120ST is a great scope for providing a wide, rich-field view.
When looking into the 120ST, or any other rich field telescope, the most important thing to remember is that these scopes give you a considerably different perspective compared to telescopes with a longer focal length.
This scope is ideal if you're looking to view the Andromeda galaxy, Orion Nebula, Pleiades, and other deep space objects. These generally cover a large area of sky and benefit from being seen in full.
On the flip side, the combination of low power and a wide field isn't ideal for viewing nearer objects, such as the moon or planets. That isn't to say that the 120ST doesn't provide adequate views of those bodies, it just isn't this telescope's primary function.
Features and Benefits
Now, let's take a closer look at the key elements of the 120ST, and how those features translate to an immersive astral experience when using the telescope.
We'll cover off the most essential features and factors to consider when purchasing a telescope.
Optical Performance
Mount Performance
Included Equipment
Set-up & Use
What You Can See
Standard Magnification Table
The table below shows the magnification levels you'll achieve with this scope using a 25mm, 18mm, and 10mm eyepiece. The bottom row shows what this would be with a 2x Barlow Lens.
| | | | |
| --- | --- | --- | --- |
| Eyepiece: | 25mm | 18mm | 10mm |
| Magnification: | 24x | 33x | 60x |
| With 2x Barlow: | 48x | 67x | 120x |
Optical Performance
With rich field scopes like the AstroView 120ST, the goal is to provide the widest viewing angle possible. While it comes at the cost of magnification, it provides a much more immersive view that allows you to take a closer look at full star clusters instead of viewing a single object.
This scope provides a wide 120mm aperture, which captures more light than scopes with a narrower aperture. This allows you to view dim and distant objects that smaller telescopes have a hard time imaging.
The 600mm focal length is considerably shorter than most beginner and novice scopes. But that compact focal length and fast f/5.0 focal ratio result in much sharper images, and a 66% wider field of view than a scope with a 900mm focal length can provide.
Chromatic Aberration
The AstroView 120ST is an f/5 achromatic doublet refractor, so chromatic aberration is a factor whenever you're viewing brighter objects like Jupiter, Venus, and the moon.
The easiest way to understand chromatic aberration is to consider how a prism splits white light into the rainbow's colors, just like the cover of Pink Floyd's Dark Side of the Moon. While stars may appear white, they're actually composed of a rainbow of colors.
As light travels through the eyepiece of your scope, the different colors bend at different angles, and they'll reach your eye at different times unless corrected.
Without correction, you'll see blurring around the edges of brighter objects you look at, called chromatic aberration. Read more detail in this article. The doublet lens of the 120ST does some correcting, but it is not an apochromatic lens (APO) found on higher-end, more expensive refractors.
Physics dictates that chromatic aberration happens with short focal length refractors. Buy this telescope specifically to see crisp images of deep space and it won't be an issue. If you are seeking better planetary views, choose a different model.
Mount Performance
The 120ST comes equipped with Orion's AstroView equatorial mount, which offers high-end stability and smoothness that many EQ mounts in this price range have a hard time beating.
The polar-axis scope achieves quick and accurate polar-alignment, and the manual slow-motion controls allow you to locate and track objects quickly and with less effort. Once the mount is aligned correctly, it will follow the planet or nebulae you're viewing with a slight twist of a single knob.
This EQ mount can support up to a 5" refractor tube and features left and right azimuth adjustments, and a push-push system for adjusting latitude (push one side in for up, push the opposite side in for down).
An easy to read latitude scale on the side of the mount allows you to set the scope to your current latitude.
The ST120 offers slow-motion controls for both declination and right ascension, and both controls have worm gears that provide a full 360° range of motion. This better than cheaper mounts which usually use a spur gear for the right ascension control, requiring you to reset the control regularly for a complete range of motion.
If you have your heart set on a motorized mount, Orion has you covered with their EQ-3M electronic drive system, which is available for around $150. There are single and dual-axis versions of this clock drive system.
This precise motor offers regulated sidereal-rate tracking in both ascension and declination, which ensures that the scope accurately moves with the rotation of the earth. A disengage function allows for coarse movements by hand while the motor is still attached.
The controller provides 2x, 4x, and 8x speeds, and a pause function. This motor kit is compatible with all Orion and Celestron EQ mounts, and it's an easy way to make your new scope even more enjoyable.
Included Equipment
In addition to the optical tube assembly (OTA) and mount, this telescope includes 2 Sirius Plössl eyepieces in 10mm and 25mm sizes. They offer 24x and 60x magnification, respectively, with a 52° apparent field of view.
It's unusual and pleasing to see quality eyepieces like these included with a telescope.
The best way to use these powerful eyepieces is to begin by locating an object with the 25mm eyepiece, then switching to the more powerful 10mm eyepiece for greater detail.
You'll probably want to expand your eyepiece range to include a smaller model for higher magnification, or ones with a larger field of view, like the Luminos range we reviewed.
This kit also includes a 6×30 finderscope. The finderscope provides 6x magnification for clear and bright views that make it easy to sight any celestial objects you find.
Rounding out the ST120 pack is the inclusion of Orion's Starry Night SE software.
For children and novice astronomers, the Starry Night software provides an immersive trip through the solar system, and it's a great way to get your feet wet in the world of astronomy.
Setting Up and Using the 120ST
As a scope intended for novice and intermediate astronomers, setting your telescope up should be an easy, intuitive process.
This telescope is composed of three main parts, the mount head, tripod, and OTA. The tripod and mount head weigh in at 16.5 pounds while the optical tube assembly accounts for another 8.6 pounds, which makes this scope light enough to travel with easily. The full system with both counterweights comes in at 36.3 pounds (16.5 kg).
The 120ST certainly has a stable feel to it, but its compact size and relatively lightweight construction make it easy to store, bring outside, or take with you on trips.
The instructions are easy to follow, and it won't take long for you to get acclimated to the telescope and ready to use it.
Astrophotography
The 120ST can be used for astrophotography, and while it can be fun to play with, the nature of this scope means it's not great in this role. The level of chromatic aberration is too great, and correcting for it would involve too much effort and post-processing.
Serious astrophotographers will achieve better results with a larger rig, and using the 120ST as a guide scope on a scope with a much longer focal length may be an excellent application for the AstroView. See our pick of Astrophotography scopes here.
What Can You See With the ST120
While the ST120 can provide some incredible views of planets and the moon, its reason for being is to present amazing views of deep-sky objects.
With its large aperture and short focal length, the ST120 offers a wide field of view that can be expanded even further if you add a 2" eyepiece to your repertoire.
Since this scope is reasonably low in the power department, it isn't going to produce the high levels of detail you need if your focus is on planets and the moon.
Where its short focal length excels is in deep space viewing. The Pleiades, Orion Nebula, and Andromeda Galaxy are afforded a fuller field of view which makes for pleasurable viewing in this scope.
Double star hunts are also a treat with this AstroView. It has a 0.97 arcsecond resolution, delivers crisp views of stars, and can be pushed to its diffraction limit.