Introduction
Orion is well established as one of the finest telescope manufacturers in the world and their Astroview 90mm refractor is perfect for beginners looking to enjoy some breathtaking views of our solar system without breaking the bank.
This refractor scope is an air-spaced achromatic doublet. While that does not provide the quality of an apochromatic doublet, it delivers surprisingly sharp and detailed views of the night sky but at a significantly lower price.
(The SkyWatcher Pro ED, for example, is over twice the cost of this model for just the telescope – no mount included).
This f/10.1 achromatic doublet makes use of a crown and flint glass lens in the Fraunhofer configuration. You should be aware that the combination of achromatic glass and a slow focal ratio, the 90mm AstroView displays apparent chromatic aberration.
Chromatic aberration is where brighter objects show excess or bleeding color on their edges. The moon, for example, has yellowing on its limb. This is a consequence of physics in refractors of this price but it hardly impacts this telescope's view, which is impressively sharp for such an affordable model.
Within this price range, the first thing a manufacturer must sacrifice is usually the optics. Lesser quality glass is used, the scopes are usually poorly baffled, and the interior paint leaves a lot to be desired. None of these issues are present with the AstroView 90mm, and you'll be treated to a fantastic optical experience with no glare or stray light issues.
This 90mm refractor is part of Orion's AstroView range, which also includes the 120ST refractor and AstroView 6 reflector telescopes. The AstroView 90mm is the most affordable scope in this range, and it's available for just under $300 (click for today's price, opens in a new tab).
The other AstroView telescopes will set you back somewhere in the realm of $450-$600, depending on the model you choose.
Things to Consider Before Buying the 90mm AstroView
Most beginner and novice astronomers are going to be thrilled with the AstroView 90mm refractor. This telescope offers a fantastic blend of quality and value, and the areas where Orion had to cut corners to keep the price down can easily be upgraded in the future.
This scope's slow focal ratio makes it ideal for viewing objects within our solar systems, such as the moon, planets, and double stars. Being slow means it delivers greater magnification with larger eyepieces than an equivalent fast model. And, with its relatively small aperture, that makes it ideal for the night sky's smaller, brighter objects.
Our solar system is chock full of incredible sights to behold, and users who are most interested in getting a closer view of these objects are sure to love this telescope.
Meanwhile, if you're more interested in viewing deep-sky objects like galaxies and nebulae, this is not the best choice of scope. While the AstroView 90mm will allow you to see some brighter deep-sky objects, they're going to be very dim, fuzzy, and most fainter sights are out of its reach.
See our best telescopes for looking at galaxies and nebulae
Astronomers looking to enjoy those views should invest in a scope with a larger aperture that can bring in the light necessary to illuminate the deep sky. Good choices are the AstroView 120 or the SpaceProbe 130ST, both are from Orion and you can click the relevant link to read our full review in a new tab.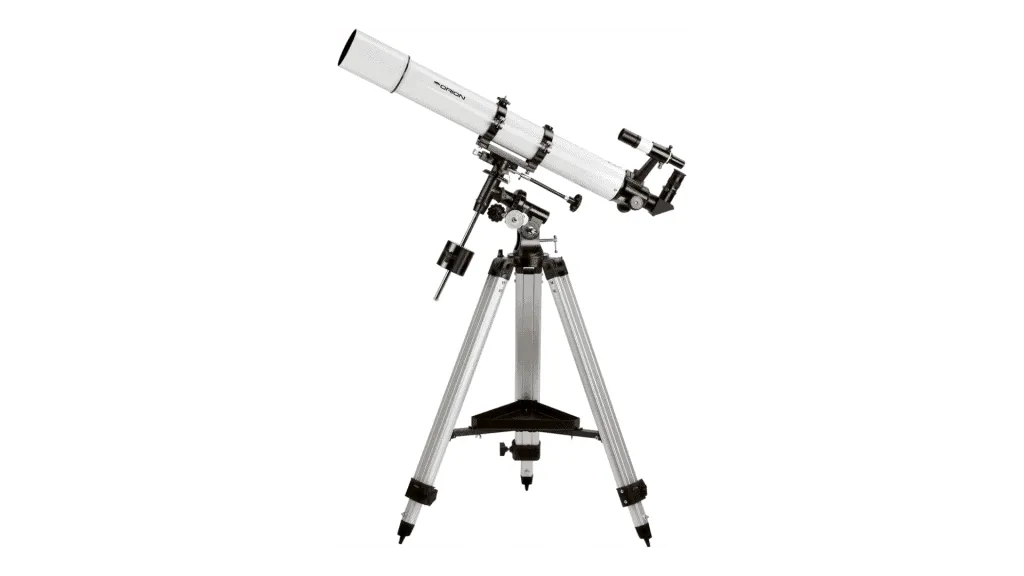 Features and Benefits
Whether you're considering the AstroView 90mm as your first telescope or looking for something affordable that's easy to travel with to bring with you on vacation, there's a lot to like about this inexpensive Orion telescope.
If you have your eye on this scope or any other model, several factors dictate whether or not the telescope will be a good fit for what you're looking to do. Five criteria help determine the quality of a telescope and how well it will perform.
Optical Performance
Mount Performance
Included Equipment
Set-up & Use
What You Can See
Standard Magnification Table
The table below shows the magnification levels you'll achieve with this scope using a 25mm, 18mm, and 10mm eyepiece. The bottom row shows what this would be with a 2x Barlow Lens.
| | | | |
| --- | --- | --- | --- |
| Eyepiece: | 25mm | 18mm | 10mm |
| Magnification: | 36x | 51x | 91x |
| With 2x Barlow: | 73x | 101x | 182x |
Table shows magnifications in this model
Optical Performance
Considering how affordable this scope is, you'd figure that this scope's optics are an afterthought. Fortunately, this couldn't be further from the truth. The AstroView 90mm delivers surprisingly good optical performance that most refractors around this price can't compete with.
The AstroView 90mm is the entry-level scope within the AstroView range, but that doesn't necessarily speak to the optical tube assembly's (OTA) quality compared to the other scopes in this same line. The 90mm offers similar quality to the other AstroView refractor, the 120ST, at around half the price.
Compared to other refractors costing around the same as the 90mm AstroView, few scopes can compete with the optical quality or the build quality of the AstroView.
That said, there is no denying that 3.5 inches is a small aperture, the best optics in the world can't make up for that. Any telescope with a sub-4″ aperture, this one included, performs best with bright objects, which is why this model is best suited for viewing stars, the moon, and planets.
The larger 120ST is better for viewing deep-sky objects.
The difference in price between these two refractors is partly owed to the more expensive mount included with the 120ST and partly the larger aperture.
As a doublet refractor, you'll need to tolerate a degree of chromatic aberration with this telescope. It's barely apparent to the naked eye and doesn't detract hugely from your viewing experience. If this will be your first telescope, you'll still be blown away by the view you enjoy!
However, the chromatic aberration is high enough to make this scope a poor choice for astrophotography.
With its long focal length and small aperture, this scope is on the slower side, making it ideal for planetary and lunar observation. Users will be treated to tack-sharp images of the moon, all of its beautiful details, and beautifully sharp images of planets, double stars, and even some brighter deep-sky objects, such as the Andromeda Galaxy.
This telescope offers a 1.25" rack and pinion focuser that's almost entirely made from metal for long-lasting durability. The plastic adjustment knob is the only non-metal component of the focuser, or the OTA as a whole, for that matter.
Mount Performance
Keeping on top of the optical performance, the folks at Orion need to cut corners somewhere to keep this scope affordable. Unfortunately, that means that the mount isn't the greatest.
More expensive AstroView scopes use Orion's EQ-3 and EQ-G mounts, which are designed for more demanding applications. The AstroView 90mm includes the EQ-2 mount, an inexpensive, lightweight mount that provides basic functionality.
This mount is made from lightweight aluminum and features dual setting circles, slow motion controls, and a small accessory tray for storing eyepieces and other regularly-used accessories. The mount can also be outfitted with Orion's EQ-2M motor drive system for hands-free control.
The EQ-2's capacity tops out at nine pounds, so while it has no trouble supporting this OTA, additional accessories are almost entirely out of the question. If you're looking for a mount that can support photography equipment, you'll need to find a beefier option with a larger weight capacity.
For the beginner astronomer, the EQ-2 is a good-enough starter mount but is prone to vibration because it's lightweight and not robust. However, this is a common issue for telescopes at this price point and any tripod can be made more stable with fewer vibrations for little cost.
On the bright side, this mount's low capacity also means it's lightweight, and at only 18 pounds, it's the perfect mount to travel with. You'll just want to be careful when transporting the mount because it doesn't have the robust build to stand up to dings and dents as other mounts can, and most of the hardware is made from plastic.
Included Equipment
Beyond the telescope and mount, Orion includes a few accessories that make it easy for you to study the sky.
This scope includes two Sirius Plössl eyepieces with 25mm and 10mm focal lengths, which provide 36x and 91x magnifications.
These eyepieces both feature a 52° apparent field of view and are multi-coated for enhanced optical quality. Molded rubber eyecups ensure you'll be comfortable as you view the skies through these eyepieces.
At this price, the included eyepieces' quality is almost unrivaled, as most manufacturers provide a mediocre eyepiece that's intended to be upgraded.
The Sirius Plössl eyepieces will provide you with exceptional views of the night sky. Some users choose to add a 6mm eyepiece or a Barlow lens to push the magnification so the scope can reach the max.
Also included is a 6x30mm finderscope, which allows you to more easily sight objects in the sky you'd like to examine more closely through the telescope. The finderscope is helpful, but it isn't especially comfortable to look through, and images appear quite dark.
A 90° star diagonal is another helpful add-on. It makes viewing certain objects high overhead much more comfortable and enjoyable since it eliminates the need to contort yourself into odd positions to look through the eyepiece.
Rounding out the extras in this package is a copy of the Starry Night SE software, a fantastic supplement to the telescope, especially for beginners. The software includes realistic sky simulations that you can enjoy at any time, and it's a helpful educational tool for users who aren't sure what to look for. Use the Starry Night software to discover new objects in the sky, then take your telescope out and find them in real life.
Setup & Use
As a beginner telescope, getting started with the AstroView 90mm couldn't be much easier. Once you have everything unpacked, viewing the sky is as simple as attaching the OTA to the mount, adjusting it to your latitude, and popping in an eyepiece.
This scope is incredibly light, and it weighs in at under 24 pounds with the counterweight. You won't find many telescopes that are more conducive to traveling than this lightweight option.
While traveling with this scope is easy, the OTA attaches with a ring system instead of a dovetail, so you'll need to keep a screwdriver handy to mount the telescope, or remove it.
Since this telescope is a refractor, there's no need for collimation, which makes this scope even more attractive to users who plan to do lots of traveling.
As a manual telescope, there's no GoTo controller or motor drive to set up for use.
What You Can See With the AstroView 90mm Refractor?
The most important question is, what will you be able to view with the AstroView 90mm?
With its long focal length and relatively small aperture, this scope is on the slow side, which makes it ideal for brighter objects, including planetary viewing, detailed lunar views, double stars, and other objects in our solar system.
Simply put, if you're hoping to enjoy incredibly detailed views of the moon and planets, you will find this scope delivers.
The AstroView 90mm manages to capture enough light to illuminate some deeper sky objects, but most of them appear dark and grainy. If you're hoping to get more acquainted with the Messier objects, galaxies, and other fixtures of the deep sky, you will be disappointed by what this telescope can capture.
Astrophotography
Unfortunately, this scope doesn't meet the needs of astrophotographers.
A motor drive system is available, which would help this telescope meet the needs of astrophotographers in theory. Still, the lack of mount capacity means that the EQ-2 can't support any additional photography equipment.
As we discovered earlier, the OTA's optical performance is not strong enough either for accomplished astrophotography. In reality, you'll need an apochromatic model, which is much more expensive.