Introduction
Orion is one of the most trusted names in astronomy, and they manufacture a full line of telescopes to suit everyone's needs, from beginners to advanced stargazers.
The Orion SkyQuest XT4.5 is their entry-level Dobsonian scope, and it offers an affordable and highly portable way for the whole family to enjoy astronomy.
This scope is virtually identical in the optics department to the Celestron PowerSeeker 114, but it includes superior accessories and a better mount. Compared to most of the tabletop Dobsonians on the market, the XT4.5 offers sharper imaging and higher collimation tolerances.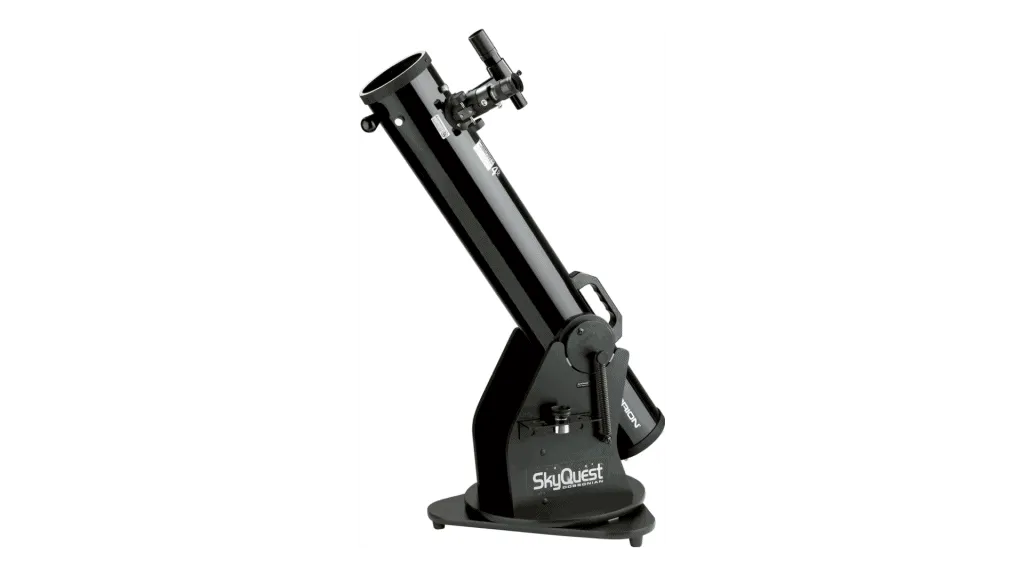 Orion's XT Range of Telescopes
Orion produces a large range of XT telescopes, with the 4.5 being the introductory level.
Their sizes range from this beginner's telescope (link opens our choice of best beginner's models in a new tab) and range through 6", 8", 10", 12", 14" and 16". Technically, the largest two models are XX models, not XT, because they have open truss frames instead of solid OTAs. The 12" is available in XT and XX versions.
To make things a little more complicated, there are also sub-models for many of these sizes. However, they are easy enough to understand:
'PLUS' – these models have upgrades over the standard base design, including dual-speed Crayford focuser, adjustable tension in the Dob base, and extra accessories
'g' – models with a 'g' in them, e.g. SkyQuest XT10g, have a go-to motorized computer attached to them with a 42,000 object database
'i' – this stands for 'Intelliscope', e.g. SkyQuest XT10i, which is SkyQuest's push-to database of 14,000 objects
The 8" and 10" SkyQuests are available as 'Classic' (base model), 'plus', goto or intelliscope. The 4.5" model only comes with the basic setup, and the 6" model is either 'classic' or 'plus'.
At the top end of the range, the 12" and 14" models are only available with 'intelliscope' or 'goto' capability, and the 16" only comes with goto.
XT Telescope Pricing
At present, the telescopes in the XT range are priced as follows on Telescope.com. Click the links to see today's prices:
View the full range at Orion Telescopes (opens a new tab).
Pricing
When it comes to the bottom line, you'll be hard-pressed to find a Dobsonian that can match the quality of the XT4.5 at this price point.
The XT4.5 will set you back around $250 (today's price, opens a new tab).
The XT4.5 is also available as part of a kit that includes some additional accessories, like a 2x Barlow lens, a moon map, a planisphere, and more. The kit version is available for just $30 more than the base model, at $280 total (today's price).
Things to Consider Before Buying the SkyQuest XT4.5
The SkyQuest XT4.5 is a versatile Dobsonian scope that's perfect for beginners and advanced astronomers alike, but that doesn't mean it's ideal for everyone. There are some things you'll want to consider when evaluating if it's right for you.
This scope is ideal for beginners looking for an affordable first telescope that still provides crisp and clear views of the night sky's brighter objects.
The Dobsonian mount is the easiest style of mount to manage on the market, just move it by hand to where it needs to be. Like most Dob's, this model's base is incredibly sturdy, practically eliminating vibrations that would make viewing more difficult.
The decent entry-level aperture helps this scope gather plenty of light, making it an excellent telescope for viewing brighter deep-sky objects that scopes with a smaller aperture struggle with.
In addition to deep sky viewing, the XT4.5 also provides beautiful, detailed views of the moon, planets, and stars, including double stars and star clusters.
However, 4.5 inches isn't a huge aperture, so you will be limited on the number of fainter nebulae and galaxies you can see. If you feel that's what you want to spend time looking at, go for a larger aperture (see the list, above).
As with any reflector-style scope (i.e. one that uses mirrors), there is a bit of maintenance involved that you'll need to be aware of. Occasionally, you'll need to realign the mirrors for optimal viewing, a process known as collimation. The included collimation cap makes it easy for anyone to collimate the scope, and you see how to collimate with a laser, here.
For point-and-shoot viewing, it's tough to beat this scope, but astronomers looking to try their hand at astrophotography should stay away. The lack of motorized tracking means that traditional Dobsonian mounts don't lend themselves well to astrophotography. Instead, choose a telescope with an EQ mount and GoTo system which is more in line with the needs of the novice astrophotographer.
Discover our recommended telescopes for astrophotography
In short, beginner and advanced astronomers who want an easy to use and portable scope are sure to love the XT4.5. But, if you're focus is fainter deep space objects or astrophotography, you'll want to look elsewhere.
Features & Benefits
Novice and experienced astronomers alike will find plenty to like about this telescope. From its point and shoot functionality to its ease of transport, the XT4.5 is a worthy addition to almost any arsenal.
Whenever you're shopping for a new scope, there are some factors you'll want to consider when evaluating different models. You should at least consider the five following qualities:
Optical Performance
Mount Performance
Included Equipment
Set-up & Use
What You Can See
Standard Magnification Table
The table below shows the magnification levels you'll achieve with this scope using a 25mm, 18mm, and 10mm eyepiece. The bottom row shows what this would be with a 2x Barlow Lens.
| | | | |
| --- | --- | --- | --- |
| Eyepiece: | 25mm | 18mm | 10mm |
| Magnification: | 36x | 50x | 90x |
| With 2x Barlow: | 72x | 100x | 180x |
Table shows magnifications in this model
Optical Performance
If you've sworn off telescopes in this price range because they're characterized by mediocre optics and poor-quality components, this scope may be the one that changes your opinion forever.
With its 900mm focal range and wide 4.5" aperture, this scope can pull in lots of light to help illuminate deep sky objects. Dobsonian scopes are often referred to as 'light buckets,' and while it's a stretch to apply that term to 4.5 inches, you are certainly enjoying a big aperture for the cost.
This scope's primary mirror pulls in 260% more light than a typical beginner scope like a 60mm refractor. The long focal length, coupled with the relatively slow focal ratio of f/7.9, makes for a telescope that will perform well for near sky (planetary) and deep sky objects.
This scope features Orion's CorrecTension Friction Optimization system, which provides better balance and motion control for the telescope compared to similar Dobsonians. The system also provides an incredibly secure fit between the mount and the base, leading to more stable viewing.
This small but mighty Dobsonian holds its own within the XT range, even though it's the smallest scope in the line. The larger XT scopes feature larger apertures that make it easier to enjoy deep-sky objects, but most novice astronomers will find the XT4.5 provides plenty of incredible views, like Andromeda Galaxy and the other bright Messier objects.
Many Dobsonian's with a 4.5" aperture have a shorter focal length than this model, which gives a wider field of view. The upside of this is seeing larger objects in the frame but the downside is lower image sharpness and clarity. The XT4.5 delivers superior sharpness and clarity.
Orion always comes through in the eyepiece department, and the affordable XT4.5 is no different. Included with your scope are two Sirius Plössl eyepieces, a 10mm, and a 25mm. You can also add a Barlow for a few extra bucks if you purchase the XT4.5 bundle instead of just the scope and mount.
The two fully-coated Plössl eyepieces offer 90x and 36x reflection, respectively. Most observers start out with the lower-powered 25mm lens to find the object they're looking for before switching to the 10mm lens for higher-powered viewing. Each eyepiece is threaded, so you can add any of the available filters from Orion (or other manufacturers), enhancing your viewing experience.
The included lenses offer a 52° apparent field of view, and in this scope, the true field of view ranges from 0.55°-1.44° depending on the lens you're using (0.55° is about the width of the full moon).
Mount Performance
The XT4.5 includes a Dobsonian mount with spring tensioning, and it's essentially the same mount that's provided with the larger models in the SkyQuest line.
One key difference is the mount on the XT4.5 is ½" thick compared to ¾" particleboard. This makes the mount a bit lighter and easier to transport, but it's not as heavy-duty as the mounts included with the larger XTs, which is common sense given the weight differences.
While this base is lighter than it could be if it were made with ¾" wood, by no means is it a lightweight. This mount's wide feet lends plenty of stability, but they're spaced quite far apart, so you need a good, level surface to place them on.
The CorrecTension system secures the scope to the base securely, which allows you to carry the entire scope easily from the handle on the optical tube.
Included Equipment
One way that Orion can keep the price down on this affordable scope is by skimping on the additional equipment. Outside of the optical tube, mount, and eyepieces, the only included accessories are a collimation cap, a 6×26 finderscope, an eyepiece rack, and Starry Night SE software.
The collimation cap makes it easy for beginners and novice astronomers to collimate their scope without much experience or skill. It's a collimation cap like every other, so there isn't much worth noting here.
The included finder scope is serviceable, but its small size means that anything you see through it will be incredibly dim. A larger finder scope or a red dot would be a welcomed inclusion.
The eyepiece rack attaches to the mount, and it allows you to secure all your different eyepieces in a convenient location for quick and easy changes.
The final included accessory is a copy of Starry Night's SE software, which serves as a useful supplement for any beginner or novice astronomer. The software provides incredibly detailed simulations of the sky, so it's perfect to plan your observations and learn more about constellations. The software is compatible with Windows 10 and OS X 10.10 or higher.
We also recommend Stellarium (which is free) and SkySafari 6.
Set-Up & Use
It's tough to find a scope that's as easy to set up and use as a Dobsonian, and the XT4.5 is no different. Getting started with this telescope is as simple as connecting the optical tube to the mount using the CorrecTension spring, selecting an eyepiece, and enjoying the view.
This scope weighs in just shy of 18 pounds when fully assembled, and it offers a convenient carrying handle, so it's easy to travel anywhere with it. The 900mm focal length makes this scope a bit too large to stash in the overhead bin on an airplane, but transporting this scope in a car or on foot is a breeze.
As a reflector scope, you'll need to occasionally collimate the telescope to ensure that the mirrors are optimally aligned for the sky's clear viewing. Collimation may seem intimidating, but it's relatively easy to do with the included collimation cap. Check out this guide for more info on how to properly collimate a reflector telescope.
Since this scope is on a Dobsonian mount, there's no GoTo software to worry about. The Starry Night software that comes with the XT4.5 can be a lot of fun to play around with on a cloudy night, but it doesn't add any additional value to the scope itself.
What You Can See
The SkyQuest XT4.5 is a versatile scope that provides crisp and clear views of many of the most significant objects in the night sky.
The large 4.5" aperture will allow you to enjoy crisp detail on the planets, including the rings of Saturn and Jupiter's moons. Users will also be delighted by the incredible details they're able to capture when viewing the craters on the moon.
Double stars and deep sky objects such as the Messier objects are also easily viewable with this scope. Fainter galaxies and nebulae will be out of reach unless you have a very dark sky.
If you're interested in astrophotography, you'll want to look past this scope and any Dobsonians for that matter. The nature of Dobsonian mounts doesn't lend itself to astrophotography, and this mount doesn't provide the features you need in a mount if you're planning on taking photos.